The Dynamics of Service: Reflections on the Changing Nature of Customer/Provider Interactions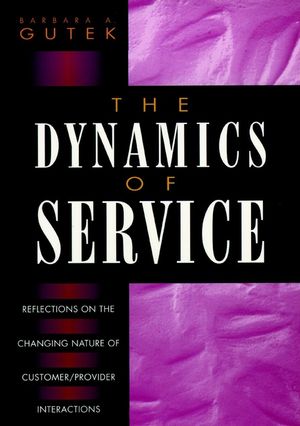 The Dynamics of Service: Reflections on the Changing Nature of Customer/Provider Interactions
ISBN: 978-0-787-90101-1
Jul 1995, Jossey-Bass
304 pages
Description
A service revolution is sweeping America. Nearly three-quarters of people in the U.S. labor force work in services, almost half of family income is spent on services, and providing good service is widely believed to be the key to an organization's success, whether in for-profit, nonprofit, or government. Yet, in an era where the customer is supposedly king, individuals are increasingly dissatisfied with the service they receive. As more and more services traditionally offered by indepAndent practitioners--such as law, health, and mental health--shift to large organizations, the quality of the customer-provider interaction deteriorates.

The Dynamics of Service is the first book to examine the service transaction in depth from social, psychological, and management perspectives. Barbara A. Gutek details the changing nature of customer-provider interactions from relationships when a customer has repeated contact with a particular provider--to encounters, which typically consist of a single brief episode. She examines the cumulative impact of this quiet revolution upon customers, providers, and the enterprises that provide service--and shows how it is changing the quality of our lives.

With powerful implications for health care, psychotherapy, higher education, law, and all areas where work is rapidly being restructured in large organizations, The Dynamics of Service provides professionals in many disciplines with a common framework for understanding how customers will be served in the future.
1. The Service Revolution: From Relationships to Encounters
2. Service Through Relationships: Creating Bonds of Trust
3. Service Through Encounters: Ensuring Speed, Efficiency, and Uniformity
4. Key Distinctions Between Relationships and Encounters
5. The Provider's Perspective
6. The Customer's Perspective
7. The Organization's Role: Creating the Context for Customer/Provider Interaction
8. The Pseudorelationship: Making Encounters Feel More Personal
9. Information Technology as Partner and Provider: Buying Services with the Help of Machines
10. Relationships, Encounters, and the Quality of Life
11. Implications for the Future
"This book presents the perfect combination. It is easy to read and impossible to forget. If you are like me, you will find yourself assigning it to your management students and giving it to your clients, especially those with whom you are establishing a relationship." --Faye J. Crosby, professor of psychology, Smith College, and author of Juggling

"A wonderful example of why, in an age when the customer is king or queen and customer service is supposedly the name of the game, we often feel so badly mistreated. This book helps faculty and administrators in higher education understand the problems created by treating college and university students like customers." --Sheila Slaughter, professor of higher education, University of Arizona

"From the supermarket checkout to the doctor's office, service transactions are increasingly important in our lives. Barbara Gutek's insightful distinction between encounters and relationships explains the meaning of that fact, the choices it confronts us with, and their consequences for the quality of our lives." --Robert L. Kahn, professor emeritus of psychology and public health, University of Michigan

"Barbara Gutek's The Dynamics of Service digs into the much-discussed current concept of service to see what's really inside: when and why do customers feel served? Are we truly becoming a service-oriented society? Or are we so deperonalizing and robotizing customer service that no shred of human connection may be left in what we used to call 'the provider/customer relationship'? This is a thorough, thoughtful, in-depth analysis of where that provider/customer relationship has been and where it may be going." --Harold Leavitt, professor, Graduate School of Business, Stanford University