The Dyslexia Checklist: A Practical Reference for Parents and Teachers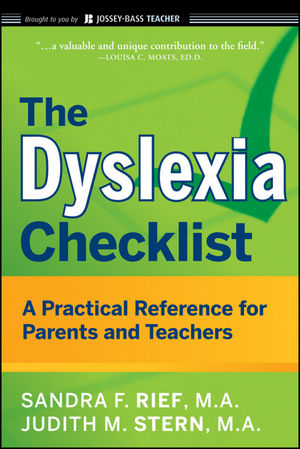 The Dyslexia Checklist: A Practical Reference for Parents and Teachers
ISBN: 978-0-470-42981-5
Jan 2010, Jossey-Bass
336 pages
Description
Essential advice and resources for helping kids with dyslexia
The Dyslexia Checklist is a valuable guide for parents and teachers that can help them better understand children and teenagers with dyslexia and other reading- and language-based disabilities. The book relays the most current research available and is filled with practical strategies, supports, and interventions. Using these tools teachers and parents can accommodate the needs and strengthen the skills of students with reading and writing disabilities across all age levels. The book is presented in a simple, concise, easy-to-read checklist format and is filled with useful advice and information on a wide range of topics.
Explains what we now know about dyslexia from decades of research
Contains games to strengthen a child's literacy and language skills
Provides important information for hooking in reluctant and struggling readers
Offers suggestions for enhancing skills in vocabulary, comprehension, composition and written expression, spelling, math, and more
The book also provides information on the educational rights of students with dyslexia.
Acknowledgments.
About the Authors.
Introduction.
1. Basic information on dyslexia.
Introduction.
1.1. Clarifying the Terms Dyslexia and Learning Disabilities.
1.2. Important Facts and General Information About Dyslexia.
1.3. Signs and Symptoms of Dyslexia.
1.4. Decades of Research: What We Now Know About Dyslexia.
1.5. Other Common Problems.
1.6. Common Strengths and Positive Characteristics of People with Dyslexia.
1.7. Diagnosing Dyslexia.
1.8. Research-Based Intervention Programs for Struggling Readers.
1.9. What Children with Dyslexia Need from Parents and Teachers.
1.10. Key Instructional Components and Interventions for Students with Dyslexia.
1.11. Dual or Multiple Exceptionalities (Gifted and Dyslexic).
Resources.
2. Strategies for helping with reading, language, and writing.
Introduction.
2.1. Phonological Awareness.
2.2. Systematic Phonics.
2.3. Decoding Strategies.
2.4. Sight Word and Irregular Word Strategies.
2.5. Fluency Strategies.
2.6. Vocabulary Strategies.
2.7. Comprehension Strategies.
2.8. Spelling.
2.9. Common Writing Diffi culties for Children with Dyslexia.
2.10. Strategies to Help with Prewriting: Planning and Organizing.
2.11. Strategies for Teaching Composition and Written Expression.
2.12. Strategies to Help with Revising and Editing.
2.13. Assistive Technology to Support Reading and Writing.
2.14. Accommodating Reading and Writing Difficulties.
2.15. Games and Activities to Strengthen Literacy and Language Skills.
2.16. The Basic Spelling Vocabulary List.
Resources.
3. Checklists for parents.
Introduction.
3.1. Talking with Your Child About Dyslexia and Other Learning Differences.
3.2. How to Advocate for Your Child.
3.3. Finding a Tutor or Educational Therapist.
3.4. Building and Nurturing Your Child's Self-Esteem.
3.5. How to Help Your Child with Homework.
3.6. Reinforcing Reading Skills at Home.
3.7. Helping Your Child with Organization and Time Management.
3.8. Strategies for Building Your Child's Study Skills.
Resources.
4. Checklists for teachers.
Introduction.
4.1. Adaptations, Accommodations, and Modifi cations: What's the Difference?
4.2. How Teachers Can Help Students with Homework.
4.3. Differentiating Instruction.
4.4. Adaptations and Modifi cations of Materials.
4.5. Adaptations and Accommodations in Testing.
4.6. Helping Students with Organization and Time Management.
4.7. Strategies to Aid Memory.
4.8. Strategies for Teaching Reading in the Content Areas.
Resources.
5. Other important checklists for parents and teachers.
Introduction.
5.1. High School Students with Dyslexia.
5.2. College Students with Dyslexia.
5.3. Response to Intervention.
5.4. Special Education.
5.5. Individualized Education Plans.
5.6. Section 504.
5.7 National Organizations and Resources That Address Disability Issues.
Resources.
Index.
"[The Dyslexia Checklist] is an excellent resource on dyslexia that will help busy parents and teachers quickly find the information they need to meet the needs of children with dyslexia. The book is a quick read, which is a must for today's classroom teachers." (About.com, April 2010)