The EU and Neighbors: A Geography of Europe in the Modern World, 2nd Edition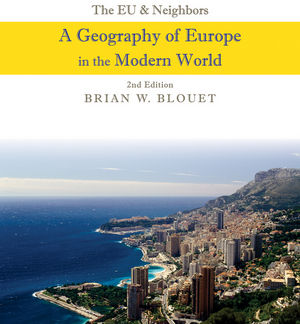 The EU and Neighbors: A Geography of Europe in the Modern World, 2nd Edition
ISBN: 978-0-470-94340-3 January 2012 576 Pages
Download Product Flyer
Download Product Flyer
Download Product Flyer is to download PDF in new tab. This is a dummy description. Download Product Flyer is to download PDF in new tab. This is a dummy description. Download Product Flyer is to download PDF in new tab. This is a dummy description. Download Product Flyer is to download PDF in new tab. This is a dummy description.
Description
The 2nd edition of Europe increases awareness and understanding of Europe and instills incredible diversity that exists in that region, and for readers to appreciate that diversity.

It uses the European Union as an organizing focus while discussing modern events in two sections. The systematic section covers the environment, cultural geography, population, settlement systems, economies, and political geography. The regional section examines Europe on a country-by-country basis.
Table of contents
INTRODUCTION: THE EUROPEAN UNION 1
PART I SYSTEMATIC SURVEY
CHAPTER 1 PHYSICAL ENVIRONMENTS 15
A View from Space 15
Climate and Weather 16
The Variability of European Weather 18
General Climate Considerations 20
Natural Vegetation 25
Topography: Mountains, Plateaux, Rivers, Plains, and Coasts 28
Human Impact on the Environment 35
Further Reading 37
CHAPTER 2 CULTURAL AND HISTORICAL GEOGRAPHY 38
Introduction 38
A Mosaic of Cultures 39
Languages 40
Religions 51
Culture Contrasts 60
Further Reading 62
CHAPTER 3 POPULATION, DISTRIBUTION, DENSITY, MIGRATION AND AGING 63
Introduction 63
Robert Malthus 64
Demographic History 64
The Demographic Transition 67
Distribution of Population 72
EU Population Trends 80
Further Reading 85
CHAPTER 4 RURAL AND URBAN SETTLEMENTS 86
Introduction 86
The Network of Roman Towns 86
The Medieval City 88
The Renaissance City 94
The Industrial City 104
Rural Settlement 107
Settlements in the Modern Era 113
Ethnic Communities in European
Cities 125
Summary 125
Further Reading 127
CHAPTER 5 ECONOMIC GEOGRAPHY: AGRICULTURE, INDUSTRY, AND SERVICES 128
Introduction 128
Sectors of the Economy 130
Agriculture 130
Industrialization 139
The Stages of European Economic Growth 149
The Impact of Globalization 153
The Impact of the EU on Agriculture, Industry, and Services 154
Summary 156
Further Reading 157
CHAPTER 6 POLITICAL GEOGRAPHY 158
Friedrich Ratzel 158
Mackinder and Bowman 158
World War I 160
Ideas for a United Europe 165
Totalitarian Regimes and Economic Autarcky 166
The New Order in Europe 171
New European Boundaries After World War II 174
The Cold War 175
Economic Cooperation in Western Europe 176
EU Enlargement in 1995 185
Widening Versus Deepening 189
Summary 193
Further Reading 194
PART II THE CORE OF THE EUROPEAN UNION
CHAPTER 7 FRANCE AND THE BENELUX COUNTRIES 199
Introduction 199
France 200
Belgium 218
The Netherlands 225
Luxembourg 232
Further Reading 235
CHAPTER 8 GERMANY AND ITALY 236
Introduction 236
Germany 236
Italy 255
Summary 273
Further Reading 273
PART III ENLARGEMENT OF EU
CHAPTER 9 DENMARK, IRELAND, AND THE UNITED KINGDOM 277
Introduction 277
Denmark 279
Ireland 285
The United Kingdom 290
Regions of Britain: Scotland, Wales, Northern Ireland, and England 294
A United Kingdom? 315
Further Reading 318
CHAPTER 10 SOUTHERN EUROPE: GREECE, SPAIN, AND PORTUGAL 319
Greece 320
The Iberian Peninsula—Spain and Portugal 329
Further Reading 343
CHAPTER 11 AUSTRIA, SWITZERLAND, SWEDEN, NORWAY, ICELAND, AND FINLAND 345
Introduction 345
Austria 346
Switzerland 352
Sweden 361
Norway 367
Iceland 375
Finland 379
Summary 383
Further Reading 383
PART IV ENLARGEMENT IN THE TWENTY-FIRST CENTURY
CHAPTER 12 EASTWARD EXPANSION 2004: THE BALTICS, POLAND, THE CZECH REPUBLIC, SLOVAKIA, HUNGARY, AND SLOVENIA 387
Introduction 387
The Baltic States: Estonia, Latvia, Lithuania 389
Poland 393
The Czech Republic 402
Slovakia 412
Hungary 415
Slovenia 422
East Europe Summary 424
Further Reading 425
CHAPTER 13 EASTWARD EXPANSION 2007: THE BALKANS 426
Introduction: The Balkans 426
Romania 427
Bulgaria 432
Croatia 437
Serbia 439
Montenegro 442
Bosnia-Herzegovina 444
Macedonia 449
Albania 451
Balkan Summary 453
Further Reading 453
PART V REGIONAL SURVEY: RUSSIA AND FORMER SOVIET SOCIALIST REPUBLICS
CHAPTER 14 BELARUS, THE UKRAINE, MOLDOVA, GEORGIA, AND RUSSIA 457
Introduction 457
Belarus and the Ukraine 457
Moldova 465
Georgia 467
Russia 470
Summary 494
Further Reading 495
PART VI THE MEDITERRANEAN FRINGE
CHAPTER 15 TURKEY, CYPRUS, MALTA, AND GIBRALTAR 499
Introduction 499
Turkey 499
Turkey, The Middle East, and Europe 506
Cyprus, Malta, and Gibraltar 508
Cyprus 509
Malta 514
Gibraltar 521
The EU in Africa 526
Islas Canarias 526
Further Reading 527
CHAPTER 16 THE EUROPEAN UNION AND THE WIDER WORLD 529
The EU in World Affairs 529
Widening 530
Deepening 530
EU External Relations 530
The Common Agricultural Policy in World Affairs 532
Imperial Pasts 532
Decolonization 532
The European Union and NAFTA 533
Turkey, the Middle East, and Central Asia 534
The Euro 534
Summary 534
GLOSSARY 536
INDEX 540
New To This Edition
Thought provoking new material regarding the recent global financial crisis, its impact on European Financial markets, individual countries within the European Union and the EU as a whole.
Fresh insights on the geographical relations between Russia and members of the European Union
Updated data and statistics that reflect trends on immigration and population across Europe.
Rich, new photographs and revised maps.
Features
 This book is an entry-level, introductory, systematic, and regional survey of Europe.
 The systematic chapters cover the environment, cultural geography, population, settlement systems, economies, and political geography.
The regional chapters examine Europe on a country-by-country basis, but countries are grouped in the order they entered the European community.