The Eagleton Reader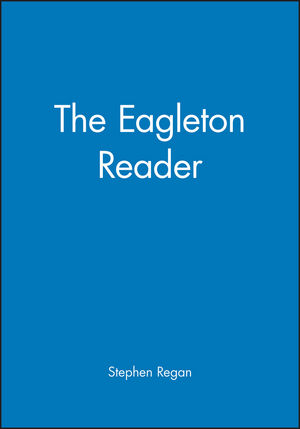 The Eagleton Reader
ISBN: 978-0-631-20249-3 February 1998 Wiley-Blackwell 472 Pages
Description
This is the first collection of Terry Eagleton's work for the theatre - St Oscar, The White, the Gold and the Gangrene, Disappearances, and God's Locusts.
Table of contents
Acknowledgements.
Preface.
Part I: Literary Criticism:.
Introduction.
1. The Novels of D. H. Lawrence.
2. Nature and the Fall in Hopkins: A Reading of 'God's Grandeur' (1973).
3. Thomas Hardy and Jude the Obscure (1974).
4. Wuthering Heights (1975).
5. Shakespeare and the Letter of the Law (1986).
6. Tony Harrison's V (1986).
7. Estrangement and Irony in the Fiction of Milan Kundera (1987).
Part II: Cultural Politics/Sexual Politics:.
Introduction.
8. The Idea of a Common Culture (1967).
9. Tennyson: Politics and Sexuality in The Princess and In Memoriam (1978).
10. The Rape of Clarissa (1982).
11. The Crisis in Contemporary Culture (1992).
12. Body Work (1993).
Part III: Marxism and Critical Theory:.
Introduction.
13. Ideology and Literary Form (1976).
14. Walter Benjamin: Towards a Revolutionary Criticism (1981).
15. Human Rights and Deconstruction (1992).
16. Ideology (1994).
17. Marxist Literary Theory (1995).
18. Marxism without Marxism: Jacques Derrida and Specters of Marx (1995).
Part IV: Modernism and Postmodernism:.
Introduction.
19. The End of English (1987).
20. Modernism, Myth, and Monopoly Capitalism (1989).
21. Defending the Free World (1990).
22. The Right and the Good: Postmodernism and the Liberal State (1994).
Part V: Friends and Philosophers:.
Introduction.
23. Resources for a Journey of Hope: Raymond Williams (1989).
24. The Death of Desire: Arthur Schopenhauer (1990).
25. My Wittgenstein (1994).
Part VI: Ireland's Own:.
Introduction.
26. History and Myth in Yeats's 'Easter' 1916 (1971).
27. Nationalism: Irony and Commitment (1988).
28. Saint Oscar (1989).
29. Unionism and Utopia: The Cure at Troy by Seamus Heaney (1991).
30. Heathcliff and the Great Hunger (1995).
The Ballad of Marxist Criticism.
Bibliography.
Index.
Reviews
"Every student of English will be thankful to Regan for assembling this Reader. Useful essays frame each section and the collection as a whole serves as a splendid introduction to Eagleton's work. His delightful wit and debunking similes make reading him fun, as well as necessary."
Gary Day, Times Higher Education Supplement "As this anthology makes clear, Eagleton's work has been held together for nearly 20 years by a startling proposal for the reform of the academic syllabus."
"If the humanities are to be rescued from their current state of over-specialised torpor, then Eagleton's work will be one of the main sources to which the reformers will turn." Morning Star
Features
* Offers representative coverage across the wide range of Eagleton's brilliant critical and theoretical output.
* Reprints many key texts not available elsewhere.
* Introduces each of six groups of essays in a volume carefully constructed to illustrate the development of Eagleton's career from its outset to the present.
* Provides a comprehensive bibliography of writing by and about Eagleton.