The Earliest Stages of Language Learning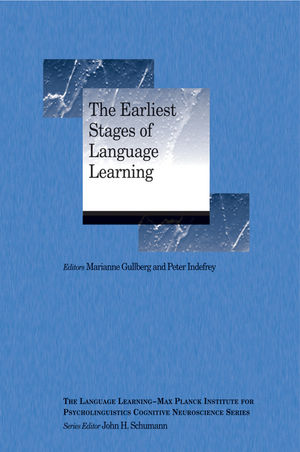 The Earliest Stages of Language Learning
ISBN: 978-1-444-33876-8 December 2010 Wiley-Blackwell 200 Pages
Description
This volume provides a state-of-the art overview of what we know about the cognitive and neurobiological aspects of the adult capacity for language learning.
Brings together studies from several fields that examine learning from multiple perspectives using various methods
Covers linguistic domains ranging from phonology and semantics to morphosyntax
Will inform and extend further studies of language learning in multiple disciplines
1. The Earliest Stages of Language Learning: Introduction (Peter Indefrey & Marianne Gullberg).
2. Adult Language Learning after Minimal Exposure to an Unknown Natural Language (Marianne Gullberg, Leah Roberts, Christine Dimroth, Kim Veroude, & Peter Indefrey).
3. Neurocognition of New Word Learning in the Native Tongue: Lessons from the Ancient Farming Equipment Paradigm (Matti Laine & Riitta Salmelin).
4. A Complementary Systems Account of Word Learning in L1 and L2 (Shane Lindsay & M. Gareth Gaskell).
5. The Role of Linguistic Input in the First Hours of Adult Language Learning (Rebekah Rast).
6. Learned Attention Effects in Second Language Acquisition (L2A) of Temporal Reference in Latin and Spanish: The First Hour and the Next Eight Semesters (Nick C. Ellis & Nuria Sagarra).
7. Short-term Grammatical Plasticity in Adult Language Learners (Douglas J. Davidson).
8. Brain Potentials Reveal Discrete Stages of L2 Grammatical Learnin (Judith McLaughlin, Darren Tanner, Ilona Pitkänen, Cheryl Frenck-Mestre, Kayo Inoue, Geoffrey Valentine, & Lee Osterhout).
9. Cognitive and Neural Mechanisms Sustaining Rule Learning from Speech (Ruth de Diego-Balaguer & Diana Lopez-Barroso).
10. Artificial Language Learning in Adults and Children (Vasiliki Folia, Julia Uddén, Meinou de Vries, Christian Forkstam, & Karl Magnus Petersson).
11. Initial Incidental Acquisition of Word Order Regularities: Is It Just Sequence Learning? (John N. Williams).
12. Implicit Artificial Grammar, and Incidental Natural Second Language Learning: How Comparable Are They? (Peter Robinson).
Author Index.
Subject Index.