The Early American Republic: A Documentary Reader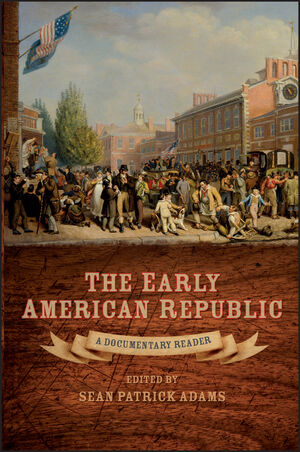 The Early American Republic: A Documentary Reader
ISBN: 978-1-405-16098-8 September 2008 Wiley-Blackwell 240 Pages
Download Product Flyer
Download Product Flyer
Download Product Flyer is to download PDF in new tab. This is a dummy description. Download Product Flyer is to download PDF in new tab. This is a dummy description. Download Product Flyer is to download PDF in new tab. This is a dummy description. Download Product Flyer is to download PDF in new tab. This is a dummy description.
Description
With voices ranging from those of presidents to slaves, from both men and women, and from Native Americans and white settlers, this book tells the story of the first half-century of the United States.
Provides students with over 50 essential documents from the Early Republic: the first five decades of the USA
Includes lesser-known documents, for example Thomas Jefferson's rules for 'republican etiquette'
Incorporates eyewitness testimony from major historical figures, alongside that of ordinary people from the period
Includes an introduction, document headnotes and questions at the end of each chapter designed to encourage students to engage with the material critically
Table of contents
List of Figures.
Series Editors' Preface.
Acknowledgments.
Introduction: Traveling the Early American Republic.
Part I Building the United States:.
1. Origins.
1 First Inaugural Address of George Washington, 1789.
2 Tickagiska King Addresses President George Washington, 1789.
3 Western Pennsylvanians Petition Against Taxes, 1790.
2. The First American Party System.
1 A Federalist Appeal to Voters, 1792.
2 Abigail Adams on the Partisan Press, 1797.
3 Matthew Lyon Criticizes "Aristocratic" Politics, 1797.
4 A Massachusetts Farmer Attacks the Federalists, 1798.
3. Recasting the American Nation.
1 First Inaugural Address of Thomas Jefferson, 1801.
2 A New Name for the United States?, 1803.
3 Rules of Etiquette in Jefferson's White House, 1803.
Part II Clashes East and West:.
4. Whose Land?.
1 Lewis and Clark Make American Claims in the "Great West," 1805.
2 Tecumseh Speaks Out Against American Policy in the Old Northwest, 1810.
3 An Artist's Depiction of Scalping during the War of 1812, 1812.
5 Conflict on Many Fronts.
1 James Madison Justifies War with the British, 1812.
2 The Hartford Convention Denounces the War, 1814.
3 An Eyewitness Account of the Battle of New Orleans, 1816.
Part III The Postwar Nation Looks Forward:.
6. The Year 1819 in Image and Verse.
1 A Poem about a Panic, 1819.
2 Americans on Their Way to a Camp Revival, 1819.
3 A Satirist Looks at the American Militia, 1819.
7. The Future Course of the Republic?.
1 John C. Calhoun Promotes Federal Internal Improvements, 1817.
2 The American Colonization Society Appeals to Congress, 1820.
3 Maine Answers the "Missouri Question," 1820.
Part IV The Work of a New Republic:.
8. A Nation on the Move.
1 A Western Editor Endorses "Old Hickory," 1824.
2 The Erie Canal Hits the American Stage, 1830.
3 An Englishwoman Remembers Her First Illinois Winter, 1848.
4 Charles Ball Describes Moving in the Slave Trade, 1837.
9. Work at Home, Factory, and Field.
1 Lydia Maria Child on the Family Economy and Soapmaking, 1830.
2 Two Views on the Morality of Capitalism in the Early Republic, 1834 and 1836.
3 Henry Bibb Describes Slave Labor in the Cotton Fields, 1849.
10. A New Urban America.
1 Frances Trollope Describes Cincinnati, 1832.
2 A Poem Composed to Cholera (1832).
3 A Raucous Omnibus Ride in New York City, 1839.
Part V Renewal and Reform:.
11. The Soul of the Republic.
1 Radical Quakers Appeal to Frances Wright, 1828.
2 Rev. Charles Finney on Changing One's Own Heart, 1836.
3 Zilpha Elaw Remembers Preaching in the North and South, 1846.
12. Improvement of Body and Soul.
1 Boston Physicians on Temperance, 1832.
2 Mathew Carey Advocates Reform for Seamstresses, 1833.
3 Sylvester Graham Denounces "The Appetites," 1837.
13. Anti-Slavery to Abolition.
1 African-American Leaders Reject Colonization Schemes, 1831.
2 Declaration of Sentiments of the American Anti-Slavery Society, 1833.
9. Maria Stewart Speaks at the African Masonic Hall (1833).
Part VI Jackson's America:.
14. The Rise of the "Common Man".
1 The Inauguration of Andrew Jackson, 1829.
2 David Walker Describes the Condition of Free African-Americans, 1829.
3 Sarah Grimké Defends the Rights of Women, 1837.
15. Native Americans and the Common Man.
1 Andrew Jackson Attempts to Justify Indian Removal to Congress, 1830.
2 John Ross Explains the Position of the Cherokee Nation, 1834.
3 A Description of Native American Removal in Tennessee, 1835.
16. The Second American Party System.
1 A Violent Election Season in New York City, 1834.
2 Henry Clay on Whig Strategy, 1838.
3 New Hampshire Papers Debate the "Log Cabin" Campaign, 1840.
Part VII The American Continent:.
17. The Mississippi and Beyond.
1 Narcissa Whitman Describes Missionary Life in Oregon, 1836.
2 George Catlin Describes the Mandan Buffalo Dance, 1841.
3 Notchininga's Map of the Upper Mississippi, 1837.
18. The Era of Manifest Destiny.
1 Sam Houston's Inaugural Address for the Republic of Texas, 1836.
2 An Editor Endorses the Idea of "Manifest Destiny," 1845.
3 Walter Colton on the Discovery of Gold in California, 1850.
19. War with Mexico.
1 President Polk's War Message, 1846.
2 An American Sergeant's Perspective on the War with Mexico, 1847.
3 Guillermo Prieto Describes the Occupation of Mexico City, 1850.
Epilogue: The President and the Ex-Slave:.
1 Zachary Taylor's Inaugural Address, 1849.
2 Frederick Douglass on "Morals and Men," 1849.
Bibliography.
Index
Reviews
"Selected with imagination and wisdom, these incisive and wide-ranging texts will indeed ... provide a 'road map' for students of the first sixty years of American independence." —
Daniel Walker Howe, author of
What hath God Wrought: The Transformation of America, 1815-1848
(winner, 2008 Pulitzer Prize for History)
"[A] nice blend of comprehensiveness and coherence. The selections are individually interesting, they relate well to each other, and ... provide a wide-ranging, imaginative, and disciplined conversation about the Early Republic." —Paul E. Johnson, Distinguished Professor Emeritus, University of South Carolina, author of A Shopkeeper's Millennium and Sam Patch, the famous jumper; and coauthor (with Sean Wilentz) of The Kingdom of Matthias

"This handy collection of speeches, documents, private letters, and pieces of literature, complete with context-setting prefaces, will be invaluable in any course covering major themes in the history of early national America." —Joanne Freeman, Yale University

"Expertly edited [and] chock-full of enlightening and telling primary documents, this reader conveys a beautifully textured sense of the past and attends to all of the key issues during the formative years of the United States." —Mark M. Smith, Carolina Distinguished Professor of History, University of South Carolina

"Finally, a primary sources reader that includes the full breadth of voices (both familiar and lesser known) that characterized the early American republic. Sean Adams's informative introduction ties these voices together well, making this book a helpful teaching tool for conveying the rich variety of social and political issues that the young nation faced." —Steven Deyle, University of Houston

"Provides an exciting variety of primary sources and perspectives on the nation's first sixty years. Adams has drawn together voices from across the early American republic to illuminate the complexities of the era." —Craig Friend, North Carolina State University

"Students will marvel at the fifty-year struggle to forge a nation in the decades following the American Revolution." —Seth Rockman, Brown University
Features
Provides students with over 50 essential documents from the Early Republic: the first five decades of the USA
Includes lesser-known documents, for example Thomas Jefferson's rules for 'republican etiquette'
Incorporates eyewitness testimony from major historical figures, alongside that of ordinary people from the period
Includes an introduction, document headnotes and questions at the end of each chapter designed to encourage students to engage with the material critically