The Ecology of College Readiness: ASHE Higher Education Report Volume 38, Number 5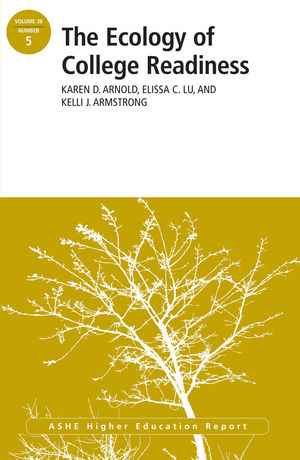 The Ecology of College Readiness: ASHE Higher Education Report Volume 38, Number 5
ISBN: 978-1-118-59543-5 December 2012 Jossey-Bass 160 Pages
Description
Despite extensive research, policies, and practical efforts to improve college readiness in the United States, a large proportion of low-income students remain unprepared to enter and succeed in higher education.
This issue draws on the human ecology theory of Urie Bronfenbrenner (1917–2005) to offer a fresh perspective that accounts for the complexity of the interacting personal, organizational, and societal factors in play. Ecological principles shift the focus to individual differences in the ways that students engage environments and to the connections across students' immediate settings and relationships.
Viewing college readiness within an ecological system also reveals how the settings where development occurs are in turn shaped by more distant environments. The aspirations and behaviors that affect students' college preparation originate in opportunities, resources, and hazards beyond their immediate environments. The ecological lens illuminates the need for coordinated, comprehensive efforts that affect students across the various levels of their environment and provides a framework for advancing college readiness research, policy, and educational practice.
This is the 5th issue of the 38th volume of the Jossey-Bass series ASHE Higher Education Report. Each monograph is the definitive analysis of a tough higher education issue, based on thorough research of pertinent literature and institutional experiences. Topics are identified by a national survey. Noted practitioners and scholars are then commissioned to write the reports, with experts providing critical reviews of each manuscript before publication.
Executive Summary vii
Foreword xi
Acknowledgments xiii
The Case for a Comprehensive Model of College Readiness 1
The Complexity of College Readiness 4
Quasi-Ecological Approaches to College Readiness 6
The Next Generation of College Readiness Research 8
Method and Organization 8
The Human Ecology Framework 11
Principles of Development in Ecological Systems 11
Environmental Contexts 14
Environmental Interactions: A Fully Ecological Model 17
Individual: The Attributes of College Readiness 19
Resource Characteristics 21
Force Characteristics 25
Demand Characteristics 27
The Individual in an Ecological Context 29
Microsystem: The Direct Experience of Students 31
Academic Preparation in Schools 32
Out-of-School Microsystems 40
Direct Experience in an Ecological Context 46
Mesosystem: A Network of Overlapping Relationships 47
Cultural Capital and the Mesosystem 47
Social Capital and Mesosystem Connectors 49
College and High School Integration 53
Overlapping Relationships in the Ecological Context 56
Exosystem: The Site of Systemic and Structural Changes 59
Precollege Intervention Programs 62
School Reform 64
Role of States 68
Role of Federal Government 70
Role of Foundations and Nonprofi t Organizations 73
Systems and Structures in Ecological Context 74
Macrosystem: The Arena of Culture and Ideology 77
Foundational Beliefs 77
Language, Subculture, and Theory 79
Culture and Ideology in the Ecological Context 81
Chronosystem: The Role of Time in College Readiness 83
Cohort and Era 83
Sequence and Timing 84
Developmental Change 88
The Role of Time in Ecological Context 89
The Ecological View of College Readiness 91
The Ecology of College Readiness 94
Using an Ecological Approach in Research and Evaluation 98
Implications for Policy 101
Implications for Practice 103
Moving Toward an Ecological Approach to College Readiness 106
References 109
Name Index 125
Subject Index 130
About the Authors 137