The Economic Geography Reader: Producing and Consuming Global Capitalism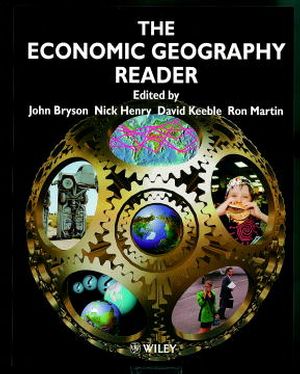 The Economic Geography Reader: Producing and Consuming Global Capitalism
ISBN: 978-0-471-98528-0 August 1999 494 Pages
Description
Provides students as well as lecturers with an international Reader focusing on the evolving economic geography of the advanced capitalist economies of Europe, North America, and the Pacific Rim within the framework of economic globalisation. It gives readers an easily accessible collection of some of the most important papers published in this dynamic discipline.

The book spans the economic geographies of globalisation, new spaces of production and consumption, new landscapes of work and the restucturing of welfare, and includes a specially written introductory chapter, section overviews, and suggested further reading. An important statement on economic geography today, this book provides an indispensable resource for undergraduates in economic geography, regional economics and other related social sciences.
Table of contents
Constructing the Reader.

Reading the Reader.

Reading Economic Geography.

THE ECONOMY IN TRANSITION: GLOBALIZATION AND BEYOND?

The Globalization Debate and the Transformation of Capitalism.

Geographies of Global Integration.

The Rise of New Capitalisms.

Regulating the New Capitalism.

SPACES OF PRODUCTION.

Introduction: Spaces of Production -
Towards New Economic Geographies.

Reworking the Division of Labour.

Rethinking the Spatial Mosaic.

New Spaces of Production.

SPACES OF CONSUMPTION.

Introduction: Consumption, Geography and Identity.

Capitalizing on Consumption.

Landscapes of Consumption.

Pick 'N' Mix: The Commodification of Identity.

WORK, EMPLOYMENT AND SOCIETY.

The Transformation of Work.

Rethinking Labour.

New(?) Social Inequalities.

Beyond the Welfare State?

Copyright Information.

References.

Index.
Features
Timeliness - economic Geography is undergoing considerable change & this is the first book to take stock of both the old and the new
Market - economic Geography is one of the largest subdisciplines in Geography
Comprehensive - covers both traditional and radical approaches to the subject (no other text does this)
Very Well Respected Editors - the "contributors" comprise the most influential authors in economic Geography
Format - large textbook double-column format (unlike competition)