The Economic Horror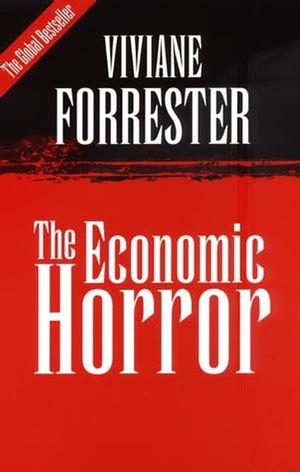 The Economic Horror
ISBN: 978-0-745-61994-1
Jun 1999, Polity
144 pages
Description
The Economic Horror is an impassioned book addressed to the dominant political and economic elites in our society. Those in power, Forrester tells us, continue to present employment as the norm - and by doing so make the unemployed feel worthless.
"People have found many scapegoats to explain the rise of unemployment and the inability to combat it - globalization, multinationals, neo-liberalism, even the end of history. Viviane Forrester goes beyond these concepts. Her book sets the terms of a real debate at last. Others will say whether her analyses are relevant, her concepts sound and her facts accurate - in short, whether she is right or wrong. But the reader of
Economic Horror
will undoubtedly be persuaded of one thing: what she says is just."
Le Monde

"Economic Horror also comes to us as a European publishing sensation ... she does have a vision of contemporary capitalism which focuses almost exclusively on its destructive, disorientating side. And which does so in a passionate, pulsing style, clearly attuned to the everyday fears of its predominantly middle-class readership, but not asking them to think too theoretically about the sources of their angst ... Powerful stuff" Sunday Herald (Glasgow)

"Amid so many contemporary arguments about "Third Ways" and the inevitability...of capitalism, it is refreshing to read such an impassioned account of its essential malignance. Some may feel that the case is overstated by the lack of qualification of claims about globalisation and the lack of differentiation between nations, classes, ethnicities, genders. But this is partly deliberate, in order to present starkly that which is usually masked in qualification, to hold onto the wider picture, to refuse to set different sections of the population against each other."Ruth Levitas, Work, Employment and Society.

'Viviane Forrester's The Economic Horror, a bestseller in her native France, is full of passion for the destructive nature of employment. While governments advocate the "sanctity" of work, the unemployed are made to feel excluded, worthless, detached from the mainstream of society. With the razzmatazz of new Labour's New Deal fast fading, Forrester's arguments have a knowing persistence that upsets the conventional wisdoms of even the most modernised politics.' Mark Perriman, New Statesman

* A powerful new analysis of work and of the value that is placed on employment and economic success in contemporary societies.
* An impassioned critique of politicians and others who portray full employment as the norm, and promise a future of work for all - a promise that makes the unemployed feel increasingly marginalised and worthless.
* The book has been a bestseller in France, where it sold more than 350,000 copies. It has sold more than 60,000 copies in Germany, more than 50,000 in Argentina, and is currently being translated into many other languages.