The Economics of Information: Lying and Cheating in Markets and Organizations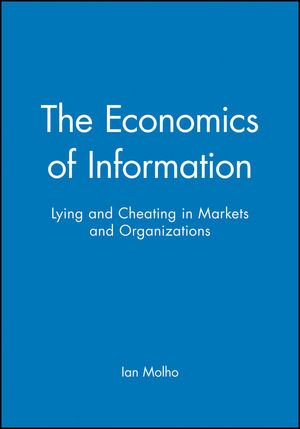 The Economics of Information: Lying and Cheating in Markets and Organizations
ISBN: 978-0-631-20666-8 October 1997 Wiley-Blackwell 276 Pages
Description
Knowledge is a vital resource which confers strategic advantages on those that possess it, and provides the possibility of misuse and abuse with increasingly dangerous economic consequences.
Table of contents
List of Figures.
List of Tables.
Preface.
1. Introduction: Private Information and Hidden Action.
Part I: Adverse Selection: The Market for Lemons. .
2. Quality Uncertainty and the Market for Lemons.
3. Adverse Selection: The Wilson Model.
4. Lemons Problems: Experimental Evidence.
Part II: Signalling.
5. Job Market Signalling.
6. Screening: A Self-Selection Mechanism.
7. Further Literature on Signalling Theory.
8. Signalling/Screening Behaviour: Experimental Evidence.
Part III: Moral Hazard.
9. Moral Hazard: Shareholder/Management Relations.
10. Moral Hazard: A Principal-Agent Model.
11. Further Literature on Moral Hazard and Agency Theory.
12. Moral Hazard: Experimental Evidence.
Part IV: Mechanism Design: Applications to Bargaining and Auctions. .
13. Mechanism Design and the Revelation Principle: A Bargaining Example.
14. Auction Design: Theory.
15. Auction Design: Experimental Evidence.
16. Concluding Comments.
Appendix: Brief Notes on Probability Distributions, Baye's Rule, Expected Utility Theory and Game Theory.
Index.
Features
* Information in economic decision making is one of the fastest growing areas of modern microeconomics.
* This is the first book to unpack the issues for undergraduate and graduate courses.
* Very accessible but rigorous treatment.
* Includes relevant experimental studies of the theory.