The Editor in Chief: A Management Guide for Magazine Editors, 2nd Edition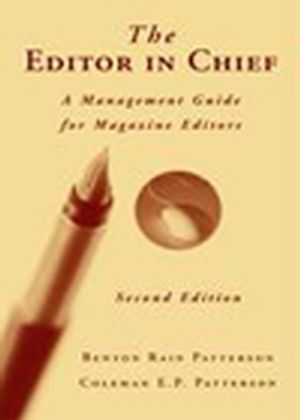 The Editor in Chief: A Management Guide for Magazine Editors, 2nd Edition
ISBN: 978-0-813-81079-9 March 2003 Wiley-Blackwell 200 Pages
Description
Packed with specific how-tos, examples and illustrations, The Editor in Chief vividly presents the guiding principles of editorial management. Authors Patterson and Patterson combine their extensive publishing and management expertise to update and enrich this best selling text, providing help and insight to future and present journalists working in the editorial department of a magazine.


New to this edition is a chapter on one of the most popular and fastest growing areas of magazine publishing - online publishing. Readers will learn about e-zines, and online editions of printing magazines:

Launching

Funding

Organizing a staff

Increasing readership

Aimed at students interested in careers as magazine editors and at novice working editors seeking to produce better magazines, The Editor in Chief, 2nd Edition prepares budding professionals for the arduous, but rewarding, task of magazine management
Preface.
1. Magazines and How They Work.
2. The New World of Online Magazines.
3. The Editorial Staff and Its Functions.
4. Managing the Editorial Department.
5. Acquiring the Content.
6. The Editorial Process.
7. Planning an Issue.
8. Displaying the Content.
9. Planning and Acquiring Photos and Artwork Illustration.
10. Titles and Subtitles.
11. Blurbs and Captions.
12. The Table of Contents.
13. Letters to the Editor and Standing Features.
14. The Cover – A Magazine's Most Important Page.
15. Cover Lines.
16. The Production Process.
17. Legal Bugaboos and Journalistic Ethics.
Index