The Education of a Speculator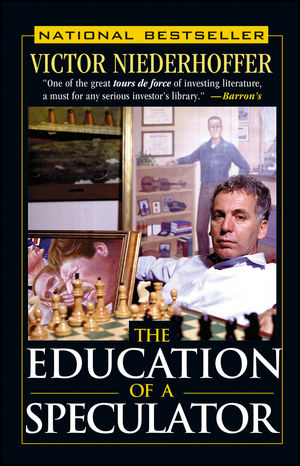 The Education of a Speculator
ISBN: 978-0-471-24948-1 March 1998 464 Pages
Description
Acclaim for The Education of a Speculator, a provocative and penetrating look into the mind, the soul, and the strategies of one of the most controversial traders of all time

"A compelling and an entertaining read." -The Wall Street Journal

"Victor Niederhoffer gives us page after page of distilled investment wisdom. Taken together, this is pure nectar to those who aim for consistently superior stock market performance." -Barron's

"The Education of a Speculator offers plenty of insights into the way markets work, but the epiphanies are what a reader might expect from Lao-tzu rather than, say, Graham and Dodd." -Worth magazine

"The Education of a Speculator is the first meaningful book on speculating. Successful speculating is as fine an art as chess, checkers, fishing, poker, tennis, painting, and music. Niederhoffer brings forth the best from each of these fields and shows the investor how their principles can enrich one's life and net worth." -Martin Edelston, President, Boardroom Inc., publishers of Boardroom Classics and Bottom Line/Personal

"With an original mind and an eclectic approach, Victor Niederhoffer takes the reader from Brighton Beach to Wall Street, visiting all stops of interest along the way. What emerges is a book full of insights, useful to the professional and layman alike." -George Soros, Principal Investment Advisor, The Quantum Fund
Brighton Beach Training.

Panics and Hoodoos.

Delphic Oracles and Science.

Losses, Comebacks, Trends, and the Weather.

Winning and Self-Reliance.

The Nature of Games.

Essential Board Games.

Gambling the Vig.

Horse Racing and Market Cycles.

Deception and Charts.

Sex.

Returns and Randomness: Academic Style.

Connections to Monitor.

Music and Counting.

The Ecology of Markets.

Finale.

Notes.

Select Bibliography.

Index.
"One of the great tours de force of investing literature, a must for any serious investor's library."-Barron's

"With an original mind and an eclectic approach, Victor Niederhoffer takes the reader from Brighton Beach to Wall Street, visiting all stops of interest along the way. What emerges is a book full of insights, useful to the professional and layman alike."-George Soros, Principal Investment Advisor, The Quantum Fund

". . . a compelling and an entertaining read."-The Wall Street Journal

"The Education of a Speculator is the first meaningful book on speculating. Successful speculating is as fine an art as chess, checkers, fishing, poker, tennis, painting, and music. Niederhoffer brings forth the best from each of these fields and shows the investor how their principles can enrich one's life and net worth."-Martin Edelston, President, Boardroom Inc., publishers of Boardroom Classics & Bottom Line/Personal

"The Education of a Speculator offers plenty of insights into the way markets work, but the epiphanies are what a reader might expect from Lao-tzu rather than, say, Graham and Dodd."-Worth Magazine

". . . Victor Niederhoffer gives us page after page of distilled investment wisdom. Taken together, this is pure nectar to those who aim for consistently superior stock-market performance."-Barron's