The Education of the Young Child, 2nd Edition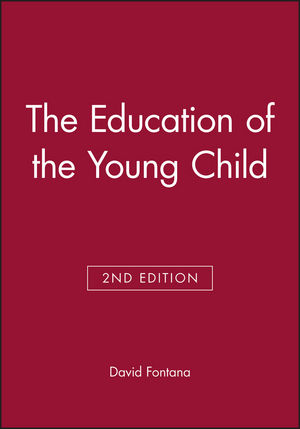 The Education of the Young Child, 2nd Edition
ISBN: 978-0-631-13585-2 January 1991 Wiley-Blackwell 328 Pages
Description
This book provides a comprehensive introduction to the theory and practice of working with young children in nursery and infant schools. The second edition of this popular and successful handbook has been revised throughout to take account of recent work, and new chapters have been added to Cognitive Development (by Sohan and Celia Modgil), Assessment (by Steve Tyler) and Parent-School Relationships (by Teresa Smith).
Intended for students and teachers, The Education of the Young Child approaches the subject in a straightforward and readable way, emphasizing the implications of the topics covered for the actual business of teaching three- to seven-year-olds. These topics include the major curricular activities carried out in nursery and infant schools, such as play, music, art and craft, movement, reading and writing, and number skills. There are also chapters on all the major aspects of psychological and social development in young children, for example the development of language, of physical growth, of thinking, of intelligence and creativity, and of social behavior and personality.
Throughout the book the accent is upon clarity and informality. The authors are all experts in their particular fields, and all have had professional experience of the three- to seven-year-old age group.
Table of contents
Preface to the Second Edition.
Acknowledgements.
Contributors.
Introduction: David Fontana.
Part I: .
1. Physical Development from Three to Seven: Jim Tanner.
2. The Developemnt of Thinking and Reasoning: Celia Modgil and Sohan Modgil.
3. The Growth of Intelligence and Creativity in Young Children: Dennis Child.
4. How Young Children Develop and Use Language: Joan Tough.
5. How Children Learn: Roger W. McIntire.
6. Personality and Personal Development: David Fontana.
7. Social Development and Social Behaviour: Ronald Davie.
8. Young Children and Special Educational Needs: Alice F. Laing and Maurice Chazan.
9. Carrying out Assessment with Young Children: Steve Tyler.
Part II:.
10. Learning and Teaching Mathematical Skills: Geoffrey Matthews.
11. Learning and Teaching Writing Skills: Sheila Lane.
13. Movement Education with Young Children: Barbara J. Lewis and Derek Cherrington.
14. Making Music: Avril Dankworth.
15. Learning and Teaching Art and Craft Skills: Henry Plukrose.
16. Understanding and Encouraging Children's Play: Alice Yardley.
17. Teachers and Parents Working Together: Teresa Smith.
Subject Index.
Author Index.