The Electrocardiogram in Acute Myocardial Infarction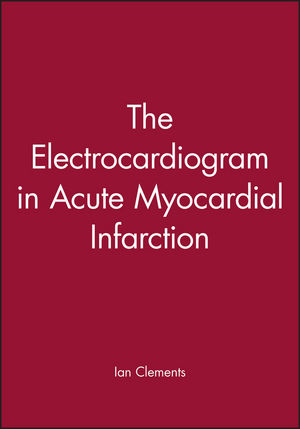 The Electrocardiogram in Acute Myocardial Infarction
ISBN: 978-0-879-93693-8
May 1998, Wiley-Blackwell
260 pages
Description
The descriptive features associated with myocardial infarction are well known. However, now that interventional treatments such as acute thrombolysis and angioplasty have become so successful in limiting evolving myocardial infarction, new roles for the electrocardiogram in acute infarction are being explored.
This timely text examines them all. They are:
- detecting patency of the infarct-related artery after an acute intervention
- detecting reperfusion
- the quantification of myocardial salvage after interventions
- how modifying the recording technique may lead to better diagnostic information
- recently identified ECG features that correlate with specific coronary artery lesions

No other book so clearly or comprehensively details the ability of the electrocardiogram to suggest treatment in this relatively recent and dynamic era of aggressive intervention in myocardial infarction. This book will be of great interest to cardiologists, arrhythamia specialists, electrophysiologists, emergency room physicians and all others who need to remain current regarding the ever-evolving clinical utility of this critical diagnostic tool.
This monograph provides an up-to-date review of the use of the electrocardiogram in acute myocardial infarction.
List of Contributors.
Foreword.
G.S. Wagner.
Preface.
I.P. Clements.
Dedication.
1. Continuous Multilead ST-Segment Monitoring in Acute Mycocardial Infarction.
R.F. Veldkamp, M.L. Simoons, J.E. Pope, M.W. Krucoff.
2. Vectorcardiography in Acute Myocardial Infarction.
I.P. Clements.
3. Precordial Electrocardiographic Mapping.
I.P. Clements.
4. Electrocardiographic Parameter Variability in Acute Myocardial Infarction.
S.J. Pieper.
5. Electrical Alternans.
S.J. Pieper.
6. Signal-Averaged Electrocardiogram and Acute Myocardial Infarction.
I.P. Clements.
7. QT Dispersion.
I.P. Clements.
8. The High-Frequency Electrocardiogram.
I.P. Clements.
9. Variance Electrocardiography.
I.P. Clements.
10. Limitations of Standard 12-Lead Electrocardiogram in Detecting Acute Myocardial Infarction.
T.F. Christian.
11. Prognostic Indicators in the Initial Electrocardiogram During Acute Myocardial Infarction.
G.S. Wagner.
12. Atypical Electrocardiographic Patterns in Acute Myocardial Infarction.
I.P. Clements.
13. Triage of Acute Infarction Using Prehospital Electrocardiograms.
S.R. McMechan, M.T. Harbinson, S. Hameed, A.A.J. Adgey.
14. Early 12-Lead Electrocardiogram: Correlations Between the Early 12-Lead Electrocardiogram and the Underlying Coronary Artery Anatomy and Prognosis in Acute Myocardial Infarction.
Y. Birnbaum, S. Sclarovsky.
15. Prehospital Diagnosis and Management of Patients with Acute Myocardial Infarction Using Remote Transmission of Electrocardiograms to Palmtop Computers.
K.S. Pettis, M. Kwong, G.S. Wagner.
16. The Electrocardiographic Features of Infarct-Related Regional Pericarditis.
S.C. Hammill, P.B. Oliva.
Index
"This book is important because it puts electrocardiograms in proper perspective in the setting of acute myocardial infarction. Most hospitals in the United States do not have angiographic laboratories, so their assessment of these patients must be done with the aid of non-invasive techniques. This is a useful source book for physicians who treat these patients."

--
Doody's Review Service

"This excellent monograph is comprehensive and well referenced. Each of the chapters on specialized tests or measurements provides a brief description of the technology. The text will enhance the reader's understanding of the value and limitations of standard 12-lead ECG and extensions of the surface ECG as well as provide an introduction to a host of specialized technologies."
--Mayo Clinic Proceedings
* a comprehensive review of the many uses of The Electrocardiogram in Acute Myocardial Infarction