The Elements of Dessert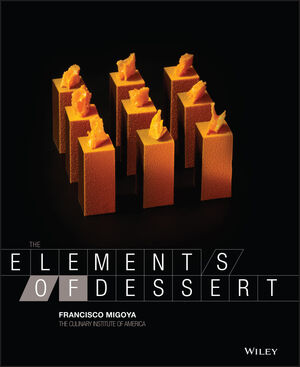 The Elements of Dessert
ISBN: 978-0-470-89198-8
Nov 2012
544 pages
Description
In The Elements of Dessert, renowned pastry chef Francisco Migoya, professor at The Culinary Institute of America, takes you on a guided tour through the innovative flavors, ingredients, and techniques in the thrilling world of desserts.  He begins with the fundamental elements—such as mousses, doughs, and ganaches-- revealing in each recipe how to incorporate these building blocks into inventive, unforgettable delicacies.  Chef Migoya then explores basic pastry methods and dessert and menu composition principles in 200 recipes and variations in the essential groups of pre-desserts, plated desserts, dessert buffets, passed-around desserts, and cakes and petits fours.  Inspirational and instructive photographs display steps, techniques, and finished desserts.  
ACKNOWLEDGMENTS vi
INTRODUCTION vi
Ch1 The Basic Elements 1
Ch2 Pre-Desserts 105
Ch3 Plated Desserts 163
Ch4 Dessert Buffets 261
Ch5 Passed-Around Desserts 331
Ch6 Cakes (Entremets) 381
Ch7 Petits Fours (Mignardises) 449
BIBLIOGRAPHY 519
RESOURCES 520
INDEX 522
Without a doubt, the must-have gift for the serious baker, professional or aspiring pro-pastry chef on your holiday list is Francisco Migoya's Elements of Dessert. How can I say that with such confidence? Two reasons: 1) Having seen the way other accomplished pastry chefs interact with Francisco Migoya at different industry events over the last three years, such as StarChefs and Top 10 Pastry Chef Awards–Migoya is clearly someone they admire and respect. And 2) Because none other than Michael Laiskonis, Creative Director of the Institute of Culinary Education (ICE) and generally regarded as one of the top pastry chefs in the US told me
"Francisco Migoya is probaby the most important pastry chef in America right now"– high praise indeed!
Part pastry school textbook, part coffee table book, this is a monster 537 page volume that provides the "blueprints" for hundreds of different desserts in every dessert category. Aside from the recipes and guidelines for petite fours, pre-desserts, dessert buffets and cakes, the book also has many adventurous and fun plated dessert recipes, such as "Warm pandan leaf -infused caramelized cream, black sesame genoa bread, hibiscus glaze, popcorn shoot (all part of the same dessert).
The book truly covers all the bases. As the review on StarChefs, who recently named it one of the top books of 2012, notes:
"[the book] delves succinctly into the creaming method, the custard method, the time and place for a meringue, the proper approach to composed cheese courses…The starkly beautiful pictures of Migoya's modernist creations are, so to speak, the icing on the intricately composed cake"
As I mentioned, Migoya is frequently sought after for his advice on both the technical and aesthetic aspects of pastry. Joseph Baker, a well-known pastry chef and a Pastry and Baking instructor at Le Cordon Blue in Dallas TX, who is often consulted on advanced baking issues himself, said this about Migoya and his book
"He [Migoya] is actually the reason I now teach. He shares his creations and improves the overall landscape of food. Chef Migoya is a true pioneer in our industry and his book, The Elements of Dessert, is a perfect guide to contemporary pastry… any Migoya book is a must have."
One of his former students at the Culinary Institute of America (CIA) echoed those sentiments:
"[Migoya] brings an intensity [to his work] that few of my other instructors could match in my time there. So much so that I was afraid of him for some time!" —Dessert Buzz
Even in a long career, it's never a bad idea to brush up on the basics, especially when it comes to pastry. The Elements of Dessert does just that, and no wonder. It's written by CIA Chef Instructor and International Chefs Congress Presenter Francisco Migoya, who delves succinctly into the creaming method, the custard method, the time and place for a meringue, the proper approach to composed cheese courses, and the various types of dough. Heck, it even has a short section on "the method for tasting food," in case you were doing it wrong (hint: you might have been, as Migoya offers a spreadsheet on flavor compatibility and "frontal versus background flavors"). But it also offers hundreds of brilliantly confounding and innovative recipes, from plated desserts to mignardises and entremets and even dessert buffets. The starkly beautiful pictures of Migoya's modernist creations are, so to speak, the icing on the intricately composed cake. by Nicholas Rummell —StarChefs
Step-by-step photographs of techniques and illustrative, contemporary photographs of desserts help students master the fundamental techniques and create inventive recipes.
More than 200 recipes and variations, featuring pre-desserts such as Goat Cheese Bavarian Cream with Beet Jelly and Date Pound Cake Crumbs; plated desserts such as Toasted Milk Panna Cotta Covered in Caramelized Milk Chocolate with a Crisp Croissant Crouton and Devil's Food Cake Soup; Dessert Buffets with items like Chocolate Blackout Cake with 64% Dark Chocolate Mousse, Luxardo Cherries, and Crème Fraîche; and passed-around desserts like lollipops and macarons.
Francisco Migoya is a professor at The Culinary Institute of America, teaching the Cafe Operations class for the baking and pastry arts degree programs.  He is also in charge of the Apple Pie Bakery Cafe, the CIA's busiest public restaurant.  Before joining the CIA, he was executive pastry chef at Thomas Keller's The French Laundry, Bouchon Bakery, and Bouchon Bistro, and is also the author of Frozen Desserts and The Modern Café.