The Elephant in the Room: Sharing the Secrets for Pursuing Real Financial Success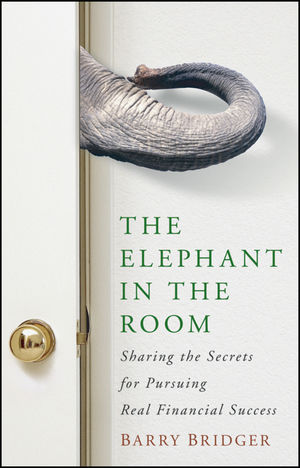 The Elephant in the Room: Sharing the Secrets for Pursuing Real Financial Success
ISBN: 978-0-470-49493-6
Apr 2009
176 pages
Description
The Elephant In The Room
A financial fable filled with lessons for building long-term wealth
"What most people don't understand, and what usually turns out to be the elephant in the room, is their behavior. It affects everything in your life, including the way you earn, spend, and save."
—Aunt Katherine
Michael Davidson and his wife, Jennifer, knew what they wanted from life and had some pretty good financial habits, but they were far from prepared for the future. Despite a healthy income and successful career, Michael—who's facing down thirty, with a wife who also works, and two kids—can't seem to accumulate any savings, and the family continues to live from paycheck to paycheck.
Frustrated by his situation, Michael seeks the advice of a person who, in his eyes, has found a way to overcome this challenge—his now comfortably retired Aunt Katherine. What follows is a series of conversations in which Michael discovers that some fundamental concepts, all under his control, can put his family in a better financial position.
Engaging and informative, The Elephant in the Room follows the fictional weekly meetings—based on the real-world experiences of financial advisors and employees from First Command Financial Planning—between Michael and Aunt Katherine as they discuss the elements that guide their financial behavior and prepare a plan to achieve his family's financial objectives.
A refreshing look at what it really takes to secure your financial future, The Elephant in the Room contains insights and advice that will put you on the path to prosperity.
Preface.
Acknowledgments.
Introduction.
Chapter One: The First Meeting.
Chapter Two: Attitude.
Chapter Three: Knowledge.
Chapter Four: Financial Beliefs.
Chapter Five: Values.
Chapter Six: Goals.
Chapter Seven: Patience & Discipline.
Chapter Eight: The Plan.
Chapter Nine: A Financial Planning Model.
Epilogue.
About the Author.
About the Company.