The Eloquent War: Personal and Public Writings from the Civil War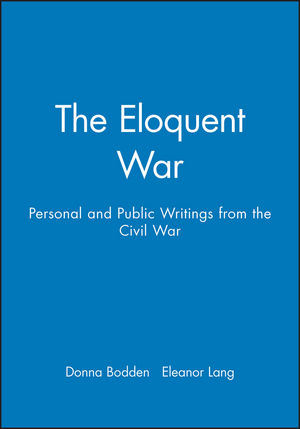 The Eloquent War: Personal and Public Writings from the Civil War
ISBN: 978-1-881-08931-5 August 1999 Wiley-Blackwell 160 Pages
Description
The Civil War confronted all Americans with the weightiest moral and political issues since the American Revolution. In diaries and journals they argued and agonized with themselves; in sermons and speeches, in poems and love letters, they revealed to one another their own interior war. As they sought with words to hold their experiences steady for a moment, they sometimes achieved the eloquence that may evoke extraordinary times.
The 59 selections in this volume, written between 1860 and 1865, include such well-known writers as Frederick Douglass, Lincoln, Melville, and Whitman, as well as the lesser-known, whose experience of war is immediate, unfiltered by memory. It is a picture of America, a literature that crosses all social borders, an integrated portrait of the Civil War as a national experience.
Table of contents
Part I: 1860-1861.
Part II: 1862.
Part III: 1863.
Part IIII: 1864-1865.
Bibliography.
Index.