The Employee Assistance Handbook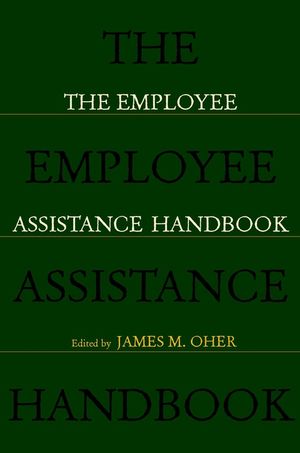 The Employee Assistance Handbook
ISBN: 978-0-471-24252-9
Jun 1999
576 pages
Description
Leading experts explain how to establish and run an effective Employee Assistance Program.

Employee Assistance Programs (EAPs) offer counseling and services for a variety of personal problems that affect workers and the workplace.

This Handbook provides clinicians, administrators, and human resource professionals with a comprehensive review of EAP "best practices." Experts from the employee assistance field, behavioral health organizations, and corporate sectors illustrate the unique role EAPs play in maintaining a vibrant and productive workforce and explain the skills and resources needed to provide effective EAP services.

This reference features innovative and groundbreaking program and service initiatives, which incorporate expanded areas of EAP practice while retaining the core mission and technology. The best intervention, treatment, and prevention programs for all issues affecting employee productivity are fully described, including:
* Substance abuse.
* Disability.
* Preventive and managed healthcare.
* Workplace trauma.
* Work/family problems.
* Management development.

The book also covers services currently in place in such diverse settings as Champion International, Du Pont, Bank One, Wells Fargo Bank, the University of Michigan, Mobil, and L.L. Bean. In addition, it discusses two current issues that will affect EAP practice in the future: accreditation of professionals and programs and the academic and field training of EAP professionals.

The Employee Assistance Handbook is invaluable reading for any professional who wants to promote health and productivity by creating effective EAP services for his or her organization.
Partial table of contents:

DEVELOPING AND MANAGING EMPLOYEE ASSISTANCE SERVICES.

Clinical Practices and Procedures (A. Darick).

EAP Accreditation and Credentialing (J. Drotos).

Employee Assistance Programs in Higher Education (L. Stoer-Scaggs).

Occupational Psychiatry and the Employee Assistance Program (J. Kahn).

Benchmarks and Performance Measures for Employee Assistance Programs (T. Amaral).

Developing Clinical Tools for the Workplace: ORBIT (D. Oberg).

EAPs and the Future of Work (T. Elliott).

EAP PROGRAMS AND SERVICES.

The Evolving Role of EAPs in Managed Behavioral Healthcare: A Case Study of DuPont (P. Heck).

EAP and Wellness Collaboration (W. Derr & G. Lindsay).

Workplace Safety, Drug Testing, and the Role of the EAP Professional (K. Collins).

The EAP and the Work-Family Connection (B. Davidson & P. Herlihy).

From Management Consultation to Management Development (J. Zimmerman & J. Oher).

Appendix.

Indexes.