The Encyclopedia of the Novel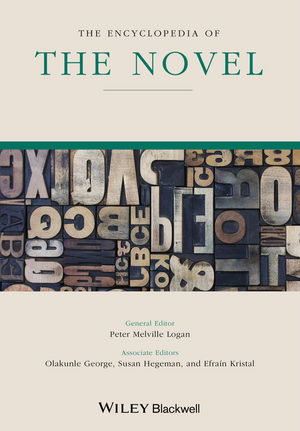 The Encyclopedia of the Novel
ISBN: 978-1-118-77907-1 February 2014 Wiley-Blackwell 1024 Pages
Description
Now available in a single volume paperback, this advanced reference resource for the novel and novel theory offers authoritative accounts of the history, terminology, and genre of the novel, in over 140 articles of 500-7,000 words.
Entries explore the history and tradition of the novel in different areas of the world; formal elements of the novel (story, plot, character, narrator); technical aspects of the genre (such as realism, narrative structure and style); subgenres, including the bildungsroman and the graphic novel; theoretical problems, such as definitions of the novel; book history; and the novel's relationship to other arts and disciplines.
The Encyclopedia is arranged in A-Z format and features entries from an international cast of over 140 scholars, overseen by an advisory board of 37 leading specialists in the field, making this the most authoritative reference resource available on the novel.
This essential reference, now available in an easy-to-use, fully indexed single volume paperback, will be a vital addition to the libraries of literature students and scholars everywhere.
Volume I.
Alphabetical List of Entries.
List of Entries by Topic.
Board of Advisors.
Contributors.
Introduction.
Acknowledgments.
The Novel A–L.
Adaptation/Appropriation.
African American Novel.
Ancient Narratives of China.
Ancient Narratives of South Asia.
Ancient Narratives of the West.
Andes.
Anthropology.
Arabic Novel (Mashreq).
Asian American Novel.
Author.
Authorship.
Bakhtin, Mikhail.
Baltic States.
Bildungsroman/Künstlerroman.
Brazil.
British Isles (18th Century).
British Isles (19th Century).
British Isles (20th Century).
Canada.
Caribbean.
Censorship.
Central America.
Central Europe.
Character.
China.
Class.
Closure.
Cognitive Theory.
Comedy/Tragedy.
Comparativism.
Copyright/Libel.
Decadent Novel.
Decorum/Verisimilitude.
Definitions of the Novel.
Description.
Detective Novel.
Dialect.
Dialogue.
Dictatorship Novel.
Disability Theory.
Discourse.
Domestic Novel.
Early American Novel.
Eastern and Central Africa.
Editing.
Epic.
Epistolary Novel.
Feminist Theory.
Fiction.
Figurative Language and Cognition.
Formalism.
Frame.
France (18th Century).
France (19th Century).
France (20th Century).
Gender Theory.
Genre Theory.
German Novel.
Gothic Novel.
Graphic Novel.
Hebrew Novel (Israel).
Historical Novel.
History of the Novel.
Iberian Peninsula.
Ideology.
Illustrated Novel.
Intertextuality.
Iran.
Italy.
Japan.
Jewish American Novel.
Journalism.
Korea.
Latina/o American Novel.
Libraries.
Life Writing.
Linguistics.
Low Countries.
Lukács, Georg.
.
Volume II.
The Novel M–Z.
Magical Realism.
Marxist Theory.
Melodrama.
Memory.
Metafiction.
Mexico.
Modernism.
Mythology.
Narration.
Narrative.
Narrative Perspective.
Narrative Structure.
Narrative Technique.
Narrator.
National Literature.
Naturalism.
North Africa (Maghreb).
Northern Europe.
Novel Theory (19th Century).
Novel Theory (20th Century).
Paper and Print Technology.
Parody/Satire.
Philosophical Novel.
Photography.
Picaresque Novel.
Plot.
Psychoanalytic Theory.
Psychological Novel.
Publishing.
Queer Novel.
Race Theory.
Reader.
Reading Aloud.
Realism.
Regional Novel.
Religion.
Reprints.
Reviewing.
Rhetoric and Figurative Language.
Romance.
Russia (18th–19th Century).
Russia (20th Century).
Science Fiction/Fantasy.
Serialization.
Sexuality.
South Asia.
Southeast Asian Archipelago.
Southeast Asian Mainland.
Southeastern Europe.
Southern Africa.
Southern Cone (South American).
Space.
Speech Act Theory.
Story/Discourse.
Structuralism/Poststructuralism.
Surrealism/Avant Garde Novel.
Time.
Translation Theory.
Turkey.
Typography.
United States (19th Century).
United States (20th Century).
Western Africa.
Yiddish Novel.
Index of Novelists.
General Index.
"It is an invaluable work for students and researchers. It will enable undergraduates to gain an understanding of the theoretical and philosophical issues that underpin their studies, and researchers will be able to examine aspects of their chosen interest in depth, within the context of a worldview."  (Reference Reviews, 2011)
"Edited by Logan (Temple Univ.), a renowned English professor, The Encyclopedia of the Novel is a quality reference tool depicting the novel as a literary genre . . . This is a solid resource for anyone interested in literature and the novel's history and influence. Summing Up: Recommended. Lower-level undergraduates and above; general readers. " (Choice, July 2011)
"Part of Blackwell Reference Online, the Wiley-Blackwell Encyclopedia of Literature is a database with content from several new stand-alone scholarly literature reference sets. Together, they provide almost 1,000 entries on the history, terminology, genres, and theory of the novel; major writers, works, movements, and genres of twentieth-century British, American, and world fiction; and terms and concepts related to post-1900 literary and cultural theory. The database would be a good investment for libraries that want to acquire the content." (Booklist, 2011)
"These three stand-alone titles work well together; overlapping entries complement rather than duplicate each other. Four planned but as yet unpublished titles in this seven-title series are The Encyclopedia of English Renaissance Literature, The Encyclopedia of Romantic Literature, The Encyclopedia of the Gothic, and The Encyclopedia of Postcolonial Studies. It would be nice to see a single cumulative or series index tying all seven together to create the most efficient access method for the serious researcher. Part of the larger series, these first three titles can be purchased separately or all together ... Based on the premise that literature mirrors life, which mirrors the surrounding society and culture, this unique work employs 320 signed articles written by 223 academic contributors at various Anglo-American institutions to connect literature and sociology. Organized in dictionary format within time period and type of theory (social or literary), articles range from two and three-quarters pages ("Abrams, M.H.") to 11½ pages ("Narrative Theory"). Each entry includes a bibliography. Volumes 1 and 2 cover literary theories between 1900 and 1966 and from 1966 to the present day. Cultural theories appear in Volume 3. See also references incorporating entries in all three volumes, cross-references within the text, and a detailed index ensure easy research access. Overall, the volume editors provide good coverage ... General editor Ryan has authored several books, including Literary Theory: A Practical Introduction. BOTTOM LINE: An excellent resource for those attempting to tie literature to the society surrounding it. Recommended for advanced undergraduate and graduate students in literature, writing, sociology, and anthropology."
(Laurie Selwyn, formerly with Grayson Cty. Law Lib., Sherman, TX - of the 3-volume Encyclopedia of the Novel)