The End of Modernity: Nihilism and Hermeneutics in Post-modern Culture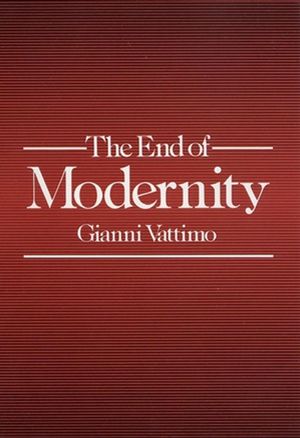 The End of Modernity: Nihilism and Hermeneutics in Post-modern Culture
ISBN: 978-0-745-60971-3 April 1992 Polity 256 Pages
Description
Now available in paperback, this book provides an elegant analysis of the philosophical background to the post-modernity debate. Vattimo focuses on the work of Nietzsche and Heidegger and shows how their bitter criticisms of modern European thought prepared the way for more recent proclamations of the end of the modern era.

Vattimo pursues questions central to aesthetics and hermeneutic philosophy and sides with contemporary philosophers such as Gadamer and Rorty in rejecting the search for stable and transcendent foundations for knowledge. Going beyond their work he introduces the notions of 'weak thought' and 'weak ontology' which, he argues, offer a way of 'going beyond' metaphysics by curing philosophy of the modernist disease and by resituating questions of truth and being within the realm of human experience.
Introduction.
Part I: Nihilism as Destiny. .
1. An Apology for Nihilism.
2. The Crisis of Humanism.
Part II: The Truth of Art.
3. The Death or Decline of Art.
4. The Shattering of the Poetic Word.
5. Ornament/Monument.
6. The Structure of Artistic Revolutions.
Part III: The End of Modernity. .
7. Hermeneutics and Nihilism.
8. Truth and Rhetoric in Hermeneutic Ontology.
9. Hermeneutics and Anthropology.
10. Nihilism and the Post-modern in Philosophy.
Bibliographical Note.
Index.
'An important contribution to the current philosophical debate about ... 'The Post-Modern Condition'.'
Times Higher Education Supplement
'In the last few years, Gianni Vattimo has emerged as the leading Italian philosopher of post-modernism. His book The End of Modernity is a splendid contribution to modern philosophy ... There is no doubt that it will be one of the classics of the decade.' David Wood, University of Warwick
'Vattimo's is a most welcome philosophical contribution to a debate that all too often fails to acknowledge its historical dimension.' Comparative Literature
'Vattimo is a leading interpreter of Heidegger and a cultural critic of extraordinary scope and originality. The End of Modernity is a major contribution to the current debate over post-modernism.' Hayden White
'Vattimo has a lively mind, eclectic tastes, and a flair for making theoretical philosophical discourse interesting and arresting.' Choice
* New in paperback, this is a major contribution to the highly topical post-modernity debates.
* Gianni Vattimo is the leading Italian philosopher of post-modernism, and an expert on Nietzsche, Heidegger and Gadamer.
* Vattimo presents a distinct philosophical position based on his well-known notion of `weak thought'.