The Endocrine System in Sports and Exercise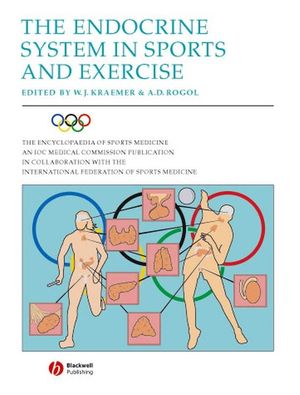 The Endocrine System in Sports and Exercise
ISBN: 978-0-470-75782-6
Jan 2008
648 pages
Description
This valuable new addition to the Encyclopaedia of Sports Medicine series provides a comprehensive and logical look at the principles and mechanisms of endocrinology as related to sports and exercise. It looks at growth hormone factors involved in exercise and the endocrinology of sport competition.

It considers various factors and stresses on the body that may alter sporting performance. It covers topics from the acute responses and chronic adaptations of the human endocrine system to the muscular activity involved in conditioning exercise, physical labor, and sport activities.

This book is an essential reference for helping to plan better programs of physical fitness, to prepare for sports competitions, and to manage the medical care of athletes.
List of Contributors.
Foreword.
Preface.
1 Introduction.
2 Basic Principles and Mechanisms of Endocrinology.
3 Exercise Testing: A Bridge Between the High-Tech and The Human—The Need for Innovative Technologies.
4 Measurement of Peptide Hormones.
5 Analysis of Low Molecular Weight Substances in Doping Control.
6 The Reproductive Axis.
7 Growth Hormone Variants and Human Exercise.
8 Growth Hormone Binding Proteins.
9 Resistance Exercise: Acute and Chronic Changes in Growth Hormone Concentrations.
10 The Growth Hormone Response to Acute and Chronic Aerobic Exercise.
11 Proopiomelanocortin and Exercise.
12 Introduction to the Insulin-like Growth Factor Signalling System.
13 Exercise, Training and the GH-IGF-I Axis.
14 The Role of MGF and other IGF-I Splice Variants in Muscle Maintenance and Hypertrophy.
15 Adrenal Gland: Fight or Flight Implications for Exercise and Sports.
16 The Adrenal Medulla: Proenkephalins and Exercise Stress.
17 Exercise and the Hypothalamo-Pituitary-Adrenal Axis.
18 Influence of Energy Availability on LH Pulsatility and Menstrual Cyclicity.
19 Oral Contraceptive Use and Physical Performance.
20 Energy Balance and Exercise-Associated Menstrual Cycle Disturbances: Practical and Clinical Considerations.
21 Regulation of Testicular Function: Changes in Reproductive Hormones During Exercise, Recovery, Nutritional Deprivation, and Illness.
22 Hormonal and Growth Factor Related Mechanisms Involved in the Adaptation of Skeletal Muscle to Exercise.
23 Resistance Exercise and Testosterone.
24 Exercise Response of Beta-Endorphin and Cortisol: Implications on Immune Function.
25 Neuroendocrine Modulation of the Immune System with Exercise and Muscle Damage.
26 The Impact of Exercise on Immunity: The Role of Neuroendocrine-Immune Communications.
27 Exercise Regulation of Insulin Action in Skeletal Muscle.
28 Hormone and Exercise-Induced Modulation of Bone Metabolism.
29 Diet and Hormonal Responses: Potential Impact on Body Composition.
30 Neurohumoral Responses and Adaptations During Rest and Exercise at Altitude.
31 Neuroendocrine Influences on Temperature Regulation in Hot Environments.
32 Alterations in Arginine Vasopressin with Exercise, Environmental Stress and Other Modifying Factors.
33 Human Endocrine Responses to Exercise-Cold Stress.
34 Growth, Maturation, and Hormonal Changes During Puberty: Influence of Sport Training.
35 Effects of Testosterone and Related Androgens on Athletic Performance in Men.
36 Growth Hormone and Sport.
37 Endocrinology of Overtraining.
38 Endocrinology of Sport Competition.
Index
Essential reference and valuable new addition in the IOC Medical Commission Encyclopaedia Sports Medicine series


Provides comprehensive and logical look at principles and mechanisms of endocrinology

Looks at growth hormone factors involved in exercise and the endocrinology of sport competition

Considers doping control and exercise stress

Expert and international authorship