The English Reformation: Religion and Cultural Adaption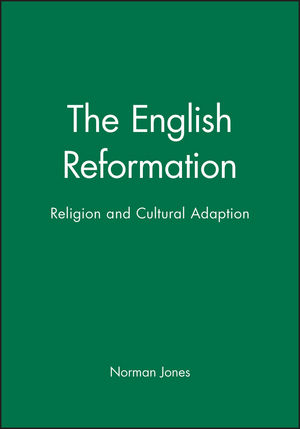 The English Reformation: Religion and Cultural Adaption
ISBN: 978-0-631-21043-6 February 2002 Wiley-Blackwell 272 Pages
Description
This history tells the story of how the English, over three generations, adapted to the religious changes forced upon them by the Reformation and, in doing so, radically reconstructed their culture.
List of Illustrations.
Abbreviations.
Acknowledgements.
1. Post Reformation Culture.
2. Choosing Reformations.
3. Families and Reformations.
4. Dissolutions and Opportunities.
5. Redefining Communities.
6. Reinventing Public Virtue.
7. Learning Private Virtue.
8. The Post - Reformation World View.
Notes.
Select Bibliography.
Index.
"This is an excellent book; original in conception, penetrating in analysis, broad in its range of reference, and vivid in the telling."
Susan Brigden, Lincoln College, Oxford
"[This book contains] a great deal to fascinated and stimulate debate." Times Literary Supplement

"Jones provides the reader with portraits of the Reformation's impact on people across the social and political spectrum. This is social history at its best. It is detailed without being cluttered and engaging without being gossipy. Highly recommended for general readers, upper-division undergraduates, graduate students, researchers and faculty." D.M. Whitford, Claflin University, in Choice, Nov. 2002

"Norman Jones is a formidable scholar of political history. The last chapter on private virtue stands out as a thoughtful and intricate examination of the difficulties Elizabethans experienced in appealing to conscience as the arbiter of virtue and truth while remaining loyal members of a state run church... Jones writes very well [and] the book is a reliable guide to the process of reformation" Ben Lowe, Florida Atlantic University

"Jones' concluding remarks capture the profound significance for the later English and British history of the Protestant culture that was born under the flexible religious policies that prevailed in Elizabeth I's long reign. In its focus on conscience this culture contained within the itself both the source of future conflict and a model for its resolution. It would be most welcome now to extend these deep and important insights about the culture of England's elite into the lives of the lower and middling sort." Renaissance Quarterly


Injects new questions into scholarly discussion of sixteenth-century England.


Focuses on the social aspects of the Reformation, making it accessible as an introduction to the subject.


Sees the Reformation as starting a chain of social, political and cultural responses that gave rise to an English Protestant culture.


Explains how individuals and institutions refashioned themselves in the face of rapid change.