The Entrepreneur: 25 Golden Rules for the Global Business Manager, Revised Edition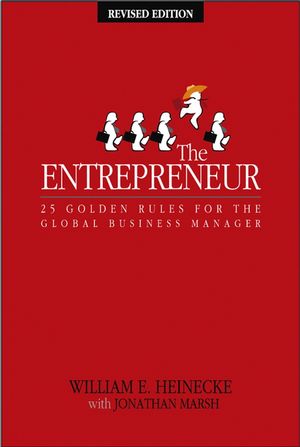 The Entrepreneur: 25 Golden Rules for the Global Business Manager, Revised Edition
ISBN: 978-1-118-17875-1 January 2012 256 Pages
Description
Written in a lively and practical style that will be of great interest to budding and blooming entrepreneurs.
The rules covered in this book are applicable to any entrepreneur around the world.
Preface.
Introduction.
Find a Vacuum and Fill it.
Do Your Homework.
You Won't be Committed if You're not Having Fun.
Work Hard, Play Hard.
Work with Other People's Brains.
Set Goals (but go easy on the "Vision" thing).
Trust Your Intuition.
Reach for the Sky (at least once).
Learn to Sell.
Become a Leader.
Recognize a Failure and Move on.
Make the Most of Lucky Breaks.
Embrace Change as a Way of Life.
Develop Your Contacts.
Use Your Time Wisely.
Measure for Measure.
Don't Put up with Mediocrity.
Chase Quality, Not Dollars.
Act Quickly in a Crisis.
After a Fall, Get Back in the Saddle Quickly.
Fight the Good Fight (especially those that you can win): Pizza Wars - Act I.
People Build Brands, Brands do not Build People: Pizza Wars - Act II.
Be Prepared for Anything: The September 11 Rule.
Reinvent Yourself: Onwards and Upwards.
Be Content.
Chronology.
Bibliography.
Index.