The Entrepreneurial Investor: The Art, Science, and Business of Value Investing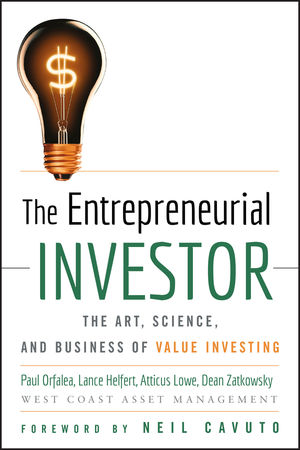 The Entrepreneurial Investor: The Art, Science, and Business of Value Investing
ISBN: 978-0-470-22714-5
Dec 2007
192 pages
Description
The Entrepreneurial Investor will inspire you to treat investing like a business and to think of yourself as an owner. Through solid examples and a light narrative, Paul Orfalea skillfully explores the essence of the entrepreneurial investor, which includes balancing the art and science of this discipline, and viewing investing itself as a business. Along the way, he also examines how the elements of focus, opportunism, and involvement can improve your overall investment results.
Buy Both and Save 25%!
Original Price:$54.90
Purchased together:$41.18
save $13.72
Cannot be combined with any other offers.
Foreword By Neil Cavuto.
Introduction. Is Investing An Art Or A Science?
Part I: Think Like An Owner: The Art of the Entrepreneurial Investor.
Chapter 1: Eyes Believe What They See; Ears Believe Others.
Chapter 2: Others' Irrationality Is Your Opportunity.
Chapter 3: Dirty Harry's Investment Philosophy.
Chapter 4: Adversity In Diversity: Portfolio Concentration.
Chapter 5: Just Buy The Best (Which Does Not Include Most Mutual Funds).
Chapter 6: Inspirational Figures: Benjamin Graham.
Part II: Companies Worth Owning.
Chapter 7: Who Really Manages The Brand? (Hint: It's Not The Company).
Chapter 8: What Makes You So Special?
Chapter 9: Company Culture Is More Important than Ever.
Chapter 10: Bogie & Bergman Explain Elasticity of Demand.
Chapter 11: Red Flags and Roaches.
Chapter 12: Inspirational Figures: David Packard.
Part III: The Owner's Manual.
Chapter 13: Televised Advice: No Worse than Drilling Your Own Teeth.
Chapter 14: Lies, Damned Lies, and Financial Statements.
Chapter 15: How To Be an Annual Report Detective.
Chapter 16: How Inventory Can Skew The Financials.
Chapter 17: Great First Impressions: 10 Signs of a Strong Company.
Chapter 18: Inspirational Figures: Bernard Baruch.
Part IV: What's It Worth—To Me?
Chapter 19: The ABCs Of Market Inefficiency.
Chapter 20: ""Wait Till the Moon Is Full"".
Chapter 21: Today's Price for Tomorrow's Growth: The X Factor.
Chapter 22: The Long View, and Why Women Are Better Investors.
Chapter 23: Intrinsic Value: Putting It All Together.
Chapter 24: Inspirational Figures: Howard Hughes.
Epilogue: The Fortune Cookie That Ate Wall Street.
About The Authors.
Notice and Disclosures.
Notes.
Index.
""…the notion of looking at each investment through the lens of an entrepreneur and ignoring market noise is a good one."" (Financial Times, Tues 26th February 2008)