The Environment, Our Natural Resources, and Modern Technology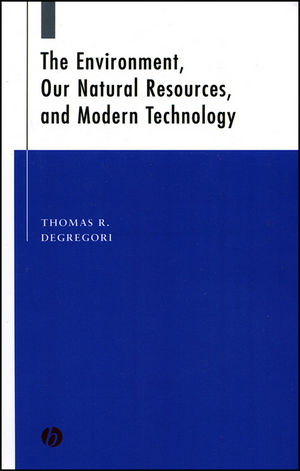 The Environment, Our Natural Resources, and Modern Technology
ISBN: 978-0-813-80869-7 November 2002 Wiley-Blackwell 256 Pages
Description
Always controversial, Thomas DeGregori has released another classic volume that is sure to inform, confound, and present new perspectives on todays environmental issues. This time he is taking on the environmentalists, naturalists, green consumerists, and those that hail the natural lifestyle as the healthy, politically correct thing to do.
DeGregori examines the economics of green consumerism, the reality of saving the environment, how historical cultures may have influenced environmental damage, and how being ecologically correct may have a more damaging effect on our environment. Not just a regurgitation of theories; DeGregori offers real-time strategies and alternatives to enhance our natural resources and our environment in harmony with today's modern technology. This is the book everyone will be talking about for years to come.
Table of contents
Preface.
Introduction.
1. Green Consumerism.
2. Racism, Elitism, and Environmentalism.
3. Life in the Bush.
4. Paradise in the Pacific?
5. The American Indian: The "Original Ecologist"?
6. Demystifying the Environment.
7. Technology and the "Primitive".
8. The Human Endeavor as a Creative Force.
9. Technology and the Promise of Modernity.
References.
Index.
Reviews
"The book is thought-provoking and useful in evaluating our own values and ethics relative to ecologically sensitive issues." (CHOICE, S.A. Carlson, Humboldt State University)
Features
* Offers practical alternatives and realistic strategies to enhance our natural resources and environment in harmony with today's modern technology
* A great information source filled with fresh, innovative perspectives