The Eradication of Infectious Diseases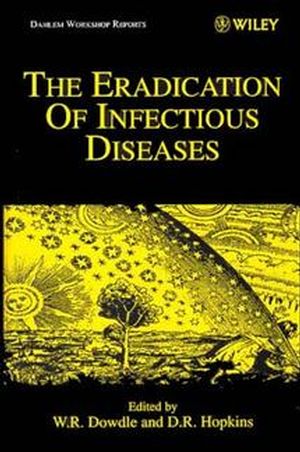 The Eradication of Infectious Diseases
ISBN: 978-0-471-98089-6 March 1998 238 Pages
Description
In 1993, an International Task Force for Disease Eradication evaluated over 80 potential candidate diseases and made recommendations. However, little has been done to develop the science of eradication systematically. This book reports the findings of a multidisciplinary workshop on the eradication of infectious diseases. It reviews the history of eradication efforts and lessons from previous campaigns and distinguishes among eradication, elimination, and control programs and extinction of an etiologic agent. It addresses a wide range of related issues, including biological and socio-political criteria for eradication, costs and benefits of eradication campaigns, opportunities for strengthening primary health care in the course of eradication efforts, and other aspects of planning and implementing eradication programs. Finally, it stresses the importance of global mechanisms for formulating and implementing such programs.
Table of contents
What Is Eradication?
(F. Fenner, et al.).
Lessons from Previous Eradication Programs (A. Hinman D. Hopkins).
The Role of Mathematical Models in Eradication of Infectious Disease (G. Medley, et al.).
Group Report: How Is Eradication to Be Defined and What Are the Biological Criteria? (E. Ottesen, et al.).
Disease Eradication Initiatives and General Health Services: Ensuring Common Principles Lead to Mutual Benefits (R. Aylward, et al.).
Economic Appraisal of Eradication Programs: The Question of Infinite Benefits ( A. Acharya C. Murray).
An Economic Perspective on Programs Proposed for Eradication of Infectious Diseases (M. Gyldmark A. Alban).
Group Report: What Are the Criteria for Estimating the Costs and Benefits of Disease Eradication?
(R. Hall, et al.).
Roles for Public and Private Sectors in Eradication Programs (C. de Quadros, et al.).
Overcoming Political and Cultural Barriers to Disease Eradication (S. Foster).
Advantages and Disadvantages of Concurrent Eradication Programs (S. Cochi, et al.).
Designing Eradication Programs to Strengthen Primary Health Care (C. Taylor R. Waldman).
Group Report: What Are the Societal and Political Criteria for Eradication?
(S. Cochi, et al.).
Are There Better Global Mechanisms for Formulating, Implementing, and Evaluating Eradication Programs?
(I. Arita).
Thoughts on Organization for Disease Eradication (W. Foege).
Group Report: When and How Should Eradication Programs Be Implemented?
(R. Goodman, et al.).
Indexes.