The Ernst & Young Business Plan Guide, 3rd Edition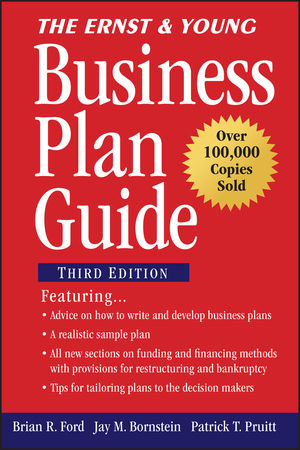 The Ernst & Young Business Plan Guide, 3rd Edition
ISBN: 978-1-118-03916-8
Dec 2010
256 pages
Description
In today's competitive business environment, a well thought out business plan is more important than ever before. Not only can it assist you in raising the money needed to start or expand a business-by attracting the interest of potential investors-but it can also help you keep tabs on your progress once the business is up and running.

Completely revised and updated to reflect today's dynamic business environment, The Ernst & Young Business Plan Guide, Third Edition leads you carefully through every aspect involved in researching, writing, and presenting a winning business plan. Illustrating each step of this process with realistic examples, this book goes far beyond simply discussing what a business plan is. It explains why certain information is required, how it may best be presented, and what you should be aware of as both a preparer and reviewer of such a proposal.

Divided into three comprehensive parts, The Ernst & Young Business Plan Guide, Third Edition outlines the essential elements of this discipline in a straightforward and accessible manner. Whether you're considering starting, expanding, or acquiring a business, the information found within these pages will enhance your chances of success.

* Advice on how to write and develop business plans
*

A realistic sample plan
*

All new sections on funding and financing methodswith provisions for restructuring and bankruptcy
*

Tips for tailoring plans to the decision makers
Acknowledgments.
Preface.
A Dedication to Entrepreneurship and the Entrepreneurs of America.
About the Authors.
About Ernst & Young's Strategic Growth Markets.
The Ernst & Young Entrepreneur of the Year Program.
PART I. The Purpose of a Business Plan.
Chapter One: The Business Plan.
Chapter Two: Who Reads the Business Plan?
Chapter Three: Legal Forms of a Business.
Chapter Four: Due Diligence.
PART II. An In-Depth Look at a Business Plan.
Chapter Five: Contents.
Chapter Six: Executive Summary.
Chapter Seven: General Company Description.
Chapter Eight: Products And Services.
Chapter Nine: Marketing Plan.
Chapter Ten: Operational Plan.
Chapter Eleven: Management And Organization.
Chapter Twelve: Major Milestones.
Chapter Thirteen: Structure And Capitalization.
Chapter Fourteen: Financial Plan.
Chapter Fifteen: Confidentiality Agreements.
Chapter Sixteen:Further Considerations.
PART III. Other Resources for Entrepreneurs.
Chapter Seventeen: Resources for the Entrepreneur.
Chapter Eighteen: Conclusion.
Index.
Totally updated and revised, this Third Edition outlines what to include as attachments to a business plan and discusses the impact of information technology on keeping a business plan up-to-date.

Ernst & Young has unique professional resources that enable it to serve both the great number of Fortune 500 companies and more owner-managed and entrepreneurial businesses than any other Big 6 accounting firm.  This unique position allows Ernst & Young to provide information in this book that can be found nowhere else.