The Essential Guide to Becoming a Doctor, 2nd Edition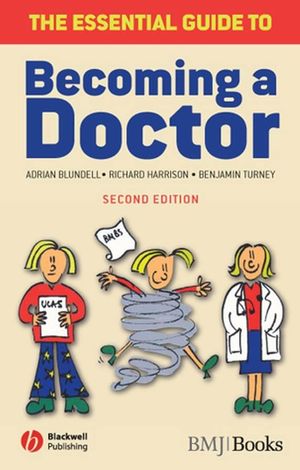 The Essential Guide to Becoming a Doctor, 2nd Edition
ISBN: 978-1-444-31264-5
Apr 2009, BMJ Books
256 pages
Description
An informative guide for anyone contemplating a career in medicine.



Up-to-date, essential information for a wide group of school leavers

Covers getting to medical school, being there and life thereafter

Written by newly qualified doctors who lecture on medical careers
Preface to First Edition.
Preface to Second Edition.
Acknowledgements.
1. A challenging career.
2. The application procedure.
3. Admission Tests.
4. The year out.
5. Choosing a medical school.
6. Applying to Oxbridge.
7. The interview process.
8. Over 21s.
9. Life at medical school.
10. The medical course - early years.
11. The medical course - later years.
12. The intercalated degree.
13. The elective.
14. Finances.
15. House dog to top dog.
16. Working patterns and wages.
17. Life as a doctor.
18. Career options.
19. Training as a general practitioner.
20. Training in the medical field (becoming a physician).
21. Training in the surgical field.
22. Working abroad.
Appendix.
Index.


Up-to-date, essential information for a wide group of school leavers


Covers getting to medical school, being there and life thereafter

Written by newly qualified doctors who lecture on medical careers