The Essential Guide to Training Global Audiences: Your Planning Resource of Useful Tips and Techniques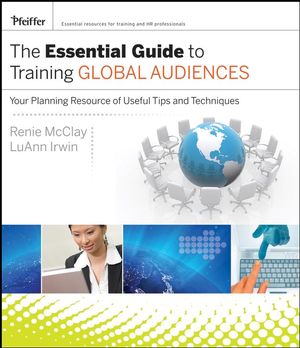 The Essential Guide to Training Global Audiences: Your Planning Resource of Useful Tips and Techniques
ISBN: 978-0-787-99661-1 July 2008 Pfeiffer 460 Pages
Description
The Essential Guide to Training Global Audiences is a groundbreaking book that offers a much-needed guide for anyone who must design and deliver excellent learning experiences for people from a culture other than their own. The book is filled with proven guidelines for multicultural training, solid techniques for training international adult learners, and advice for the preparation of culturally sensitive presentations. The book represents material from more than 65 contributors who have made presentations for some of the leading organizations worldwide.
Acknowledgments.
Introduction.
Part One: General Information for Training or Presenting to International Audiences.
Chapter One: Insights and Suggestions for Training, Teaching, and Presenting to International Audiences.
Chapter Two: Designing the Program for International Audiences.
Chapter Three: Translation for International Audiences.
Chapter Four: Presentation Techniques for International Audiences.
Part Two: Africa.
Chapter Five: The Continent of Africa.
Chapter Six: Egypt (Middle East).
Chapter Seven: South Africa.
Part Three: Asia.
Chapter Eight: China.
Chapter Nine: Hong Kong.
Chapter Ten: India.
Chapter Eleven: Indonesia.
Chapter Twelve: Japan.
Chapter Thirteen: Malaysia.
Chapter Fourteen: Philippines.
Chapter Fifteen: South Korea.
Chapter Sixteen: Thailand.
Chapter Seventeen: Uzbekistan.
Chapter Eighteen: Vietnam.
Part Four: Australia.
Chapter Nineteen: Australia.
Part Five: Europe.
Chapter Twenty: Denmark.
Chapter Twenty-One: England.
Chapter Twenty-Two: France.
Chapter Twenty-Three: Germany.
Chapter Twenty-Four: Hungary.
Chapter Twenty-Five: Italy.
Chapter Twenty-Six: Romania.
Chapter Twenty-Seven: Switzerland.
Chapter Twenty-Eight: The Netherlands/Holland.
Part Six: The Americas.
Chapter Twenty-Nine: Argentina.
Chapter Thirty: Brazil.
Chapter Thirty-One: Canada.
Chapter Thirty-Two: Central America and the Caribbean.
Chapter Thirty-Three: Colombia.
Chapter Thirty-Four: Guyana.
Chapter Thirty-Five: Mexico.
Chapter Thirty-Six: The United States.
Part Sevem: Conclusion.
Chapter Thirty-Seven: Human Resource Development Around the Globe.
Appendix One: Dealing with the Unfamiliar and Coping with Change.
Appendix Two: Mentoring Global Employees.
Appendix Three: Technology Considerations When Presenting to International Audiences.
Appendix Four: Learning in a Second Language: L2.
Appendix Five: A Workshop, Webinar, or What?
Resources.
Contributors.
Index.
About the Authors.