The Essential Guide to User Interface Design: An Introduction to GUI Design Principles and Techniques, 3rd Edition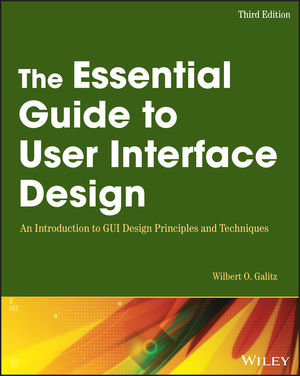 The Essential Guide to User Interface Design: An Introduction to GUI Design Principles and Techniques, 3rd Edition
ISBN: 978-0-470-05342-3 April 2007 888 Pages
Description
Bringing together the results of more than 300 new design studies, an understanding of people, knowledge of hardware and software capabilities, and the author's practical experience gained from 45 years of work with display-based systems, this book addresses interface and screen design from the user's perspective. You will learn how to create an effective design methodology, design and organize screens and Web pages that encourage efficient comprehension and execution, and create screen icons and graphics that make displays easier and more comfortable to use.
Table of contents
About the Author.
Preface.
Acknowledgements.
Part 1: The User Interface—An Introduction and Overview.
Chapter 1: The Importance of the User Interface.
Chapter 2: Characteristics of Graphical and Web User Interface.
Part 2: The User Interface Design Process.
Step 1.  Know Your User or Client.
Step 2. Understand the Business Function.
Step 3. Understand the Principles of Good Interface and Screen Design.
Step 4. Develop System Menus and Navigation Schemes.
Step 5. Select the Proper Kinds of Windows.
Step 6. Select the Proper Interaction Devices.
Step 7. Choose the Proper Screen-Based Controls.
Step 8. Write Clear Text and Messages.
Step 9. Provide Effective Feedback and Guidance and Assistance.
Step 10. Provide Effective Internationalization and Accessibility.
Step 11. Create Meaningful Graphics, Icons, and Images.
Step 12. Choose the Proper Colors.
Step 13. Organize and Layout Windows and Pages.
Step 14. Test, Test, and Retest.
References.
Index.
New To This Edition
Updates based on the more than 300 studies on interface design published over the past 4 years.
A greatly expanded discussion of usability and the design lifecycle.
A greatly expanded coverage of Web-based systems design guidelines A greatly expanded discussion of system usability testing
Incorporation of guidelines for small devices (PDAs, cell phones, etc.)
More than 30% revised material, with 90 new pages focused on web-based interfaces.
Companion website providing solutions to exercises in the book.