The Essential Handbook of Treatment and Prevention of Alcohol Problems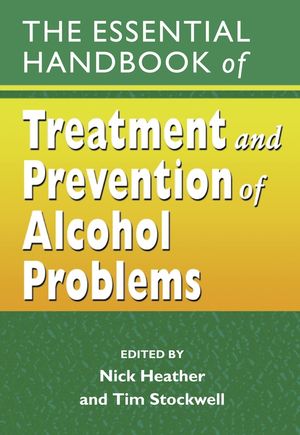 The Essential Handbook of Treatment and Prevention of Alcohol Problems
ISBN: 978-0-470-86296-4
Dec 2003
394 pages
Description
The last three decades have seen an explosion of social, psychological and clinical research to identify effective strategies to prevent and treat alcohol-related problems. This "Essential Handbook" contains an updated selection of reviews of "what works" drawn from the critically acclaimed International Handbook of Alcohol Dependence and Problems.

 

Selected specifically for health and other professionals, who need to provide effective responses in their work, these authoritative, science-based reviews are a distillation of the more practical elements, designed to save time for the busy practitioner.

 
About the Editors.
List of Contributors.
Preface.
PART I: TREATMENT AND RECOVERY (Editor: Nick Heather).
Editor's Introduction.
Chapter 1: The Effectiveness of Treatment (Janice M. Brown).
Chapter 2: Assessment for Brief Intervention and Treatment (Malissa Yang & Harvey Skinner).
Chapter 3: Alcohol Withdrawal and Detoxification (Duncan Raistrick).
Chapter 4: Pharmacological Treatments (Jonathan Chick).
Chapter 5: Cognitive-behavioural Alcohol Treatment (George A. Parks, G. Alan Marlatt & Britt K. Anderson).
Chapter 6: Relapse Prevention Therapy (George A. Parks, Britt K. Anderson & G. Alan Marlatt).
Chapter 7: Motivational Interviewing (Stephen Rollnick & Jeff Allison).
Chapter 8: Brief Interventions (Nick Heather).
Chapter 9: Treating Comorbidity of Alcohol Problems and Psychiatric Disorder (Kim T. Mueser & David Kavanagh).
Chapter 10: Natural Recovery from Alcohol Problems (Harald K.-H. Klingemann).
Chapter 11: Alcoholics Anonymous and Other Mutual Aid Groups (Chad Emrick).
PART II: PREVENTION OF ALCOHOL PROBLEMS (Editor: Tim Stockwell).
Editor's Introduction.
Chapter 12: Effects of Price and Taxation (Esa Österberg).
Chapter 13: Controls on the Physical Availability of Alcohol (Tim Stockwell & Paul Gruenewald).
Chapter 14: Creating Safer Drinking Environments (Ross Homel, Gillian McIlwain & Russell Carvolth).
Chapter 15: Prevention of Alcohol-related Road Crashes (A. James McKnight & Robert B. Voas).
Chapter 16: Prevention at the Local Level (Andrew J. Treno & Harold D. Holder).
Chapter 17: Alcohol Education in Schools (Richard Midford & Nyanda McBride).
Chapter 18: Mass Media Marketing and Advocacy to Reduce Alcohol-related Harm (Kevin Boots & Richard Midford).
Chapter 19: Alcohol Advertising and Sponsorship: Commercial Freedom or Control in the Public Interest? (Linda Hill & Sally Casswell).
Author Index.
Subject Index.