The Essential Management Toolbox: Tools, Models and Notes for Managers and Consultants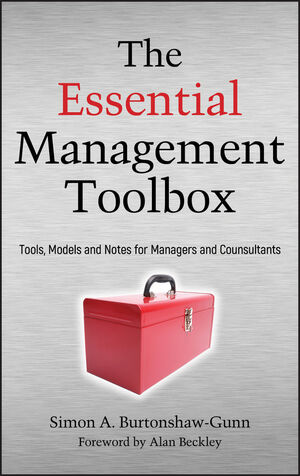 The Essential Management Toolbox: Tools, Models and Notes for Managers and Consultants
ISBN: 978-0-470-51837-3 March 2008 380 Pages
Description
A must have for all practising and aspiring consultants and strategists, this book covers a wide range of consultancy tools and techniques that are well displayed, well described and well referenced. The tools and techniques are helpfully divided in to twenty recognisable skills sectors within management consultancy fields and specialisms.

The depiction of the content with diagrams aids the process of quick reference and ease of understanding. The tools and techniques can be utilised across the whole range of organisational sectors, both private and public. The purpose is not to short cut formal learning, but to provide easy access to a 'toolbox' of tried and tested management approaches through a collection of models, tools and occasional brief notes which consultants, managers and scholars can use in a practical way.
Foreword.
Introduction.
Acknowledgements.
1. Business Planning.
2. Change Management.
3. Customer Relationship Management.
4. Decision Making and Problem Resolution.
5. Financial Management.
6. International Business.
7. Marketing Management.
8. Organizational Development.
9. People-Focused Performance Management.
10. Process Improvement.
11. Product Management.
12. Project Management.
13. Quality Management.
14. Risk Management.
15. Strategic Management.
16. Supply Chain Management.
17. Time Management.
18. Undertaking Research.
19. Working as a Consultant.
20. Workshop Facilitation.
References.
Index.
""A must-have for all practising and aspiring consultants and strategists"". (Government Opportunities, March 2008)