The Ethics Challenge in Public Service: A Problem-Solving Guide, 2nd Edition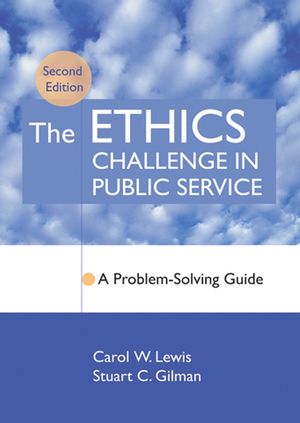 The Ethics Challenge in Public Service: A Problem-Solving Guide, 2nd Edition
ISBN: 978-0-787-97880-8
Mar 2005, Jossey-Bass
300 pages
Description
Since it was first published in 1991, The Ethics Challenge in Public Service has become a classic text used by public managers and in public management programs across the country. This second edition is filled with practical tools and techniques for making ethical choices in the ambiguous, pressured world of public service. It explores the day-to-day ethical dilemmas managers face in their work, including what to do when rules recommend one action and compassion another, and whether it is ethical to dissent from agency policy. This essential text explores managers' accountability to different stakeholders and how to balance the often competing responsibilities.
Exhibits, Tables, and Figures.
Preface.
Acknowledgments.
The Authors.
Introduction: Ethics in Public Service.
PART ONE: ETHICAL RESPONSIBILITIES OF PUBLIC MANAGERS.
1 What Is Important in Public Service?
2 Obeying and Implementing the Law.
3 Serving the Public Interest.
4 Taking Individual Responsibility.
PART TWO: TOOLS FOR PERSONAL DECISION MAKING.
5 Finding Solid Ground: Ethical Standards and Reasoning.
6 Resolving Ethical Dilemmas: Strategies and Tactics for Managers.
7 Understanding Who and What Matters: Stakeholder Analysis.
PART THREE: ETHICS AND THE ORGANIZATION.
8 Designing and Implementing Codes.
9 Broadening the Horizon.
10 Building an Ethical Agency.
Afterword: The Job Ahead.
Resource A: Chronology of Theoretical and Applied Ethics in Public Service (Work in Process).
Resource B: Selected Internet Resources.
Resource C: Tools for Making Ethical Decisions.
References.
Name Index.
Subject Index.
The Ethics Challenge in Public Service, Second Edition
is designed for all levels of government and has a focus on in the increasingly important regional and local level.
Provides a thorough revision of the leading book in the field.
Includes examples of ethical dilemmas that surface when government works with the private sector.
Clearly explains managers' responsibilities to different stakeholders and how to balance often competing responsibilities.