The Ethics of Community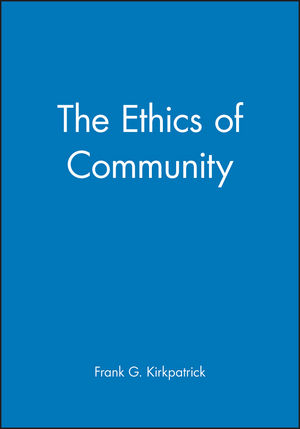 The Ethics of Community
ISBN: 978-0-631-21682-7 May 2001 Wiley-Blackwell 198 Pages
Description
In this important and timely study, Frank Kirkpatrick draws on theology, political philosophy and the social sciences more generally to develop a Christian ethic of community.
Table of contents
Introduction.
1. Moral and Scriptural Foundations.
Scripture and the Ethics of Community.
Scripture and Community.
2. Historical Experiments in Community: Europe.
Community in the Monastic Tradition.
Medieval Society.
Economic Ethics.
Calvin and Geneva.
Anabaptists and Community.
3. Historical Experiments in Community: America.
The Puritans.
The American Revolution.
The Creation of the American Republic.
From Madison to Communalism.
Communalism.
The Social Gospel.
Reinhold Niebuhr.
The Struggle Between Individualism and Community in America Today.
4. Building A Philosophy of Community.
John Macmurray and the Philosophy of Community.
5. Political Philosophies of Society.
From Private to Public.
Political Philosophies.
6. Community and Society: Difference and Engagement.
A Theology of Difference.
A Theology of Engagement.
Community for Society.
Society for Community.
7. Turning Inward to Community: The Family and The Danger of Too Much Community.
The Family as Community.
Dangers of Too Much Community.
8. Working Outward From Community: Economic Justice and International Order.
A Good and Just Society.
The Ethics of Economic Justice.
The International Order.
9. Conclusion.
Bibliography.
Index.
Reviews
"In the
Ethics of Community
, Frank Kirkpatrick has written a scholarly dissertation on the roots of the idea of community and state in Biblical and secular thought. I am grateful to Dr. Kirkpatrick for this book, which raises all the right questions."
Good News, The Newspaper of the Episcopal Diocese of Connecticut
<!--end-->
"This is a work of theological ethics, but one informed by philosophy and conversant with Western history...This is a scholarly book, written on a theoretical level and in an abstract style for fellow scholars. It is appropriate for research libraries in the fields of theology, philosophy, and history." Choice

"I can see this book being used not only by students in the academy, but also by congregational communities such as the author defines. In this way the ethics of community will spread from the classroom into the church community, and through both hopefully into all of society." Reviews in Religion and Theology

"Kirkpatrick's chief strength is an understanding of the teleology that is specific to the church and how it informs the way church and society interact." Journal of Religion
Features
The author has a lifelong interest in the ethics of community - no one is better qualified to write this thought-provoking book .

Draws widely on theology, philosophy and the social sciences generally.

An important and timely contribution to the series - fills a much needed gap in the literature.

Written in a clear, accessible style - Kirkpatrick is able to communicate complicated and challenging ideas in an entirely user-friendly way.

Balances theoretical considerations that are important in interdisciplinary debate and practical considerations that are significant in daily life and politics.

Provides a usable model for ethical and theological reflection.