The Ethics of Genetic Commerce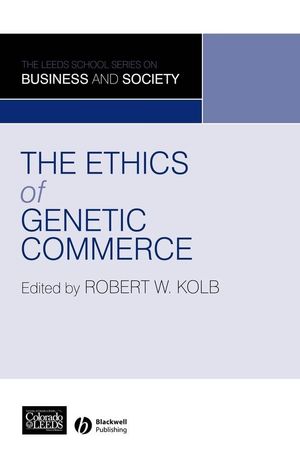 The Ethics of Genetic Commerce
ISBN: 978-0-470-69167-0 April 2008 Wiley-Blackwell 240 Pages
Description
Our rapidly expanding genetic knowledge today points toward a near future in which the elements of humanity closest to our moral core may themselves be produced, manipulated, commodified, and exchanged.



Explores the moral and ethical concerns derived from an increasing knowledge of genetics and the variety of its commercial applications

A major contribution to the emerging understanding of the role that ethics will play in genetic commerce

Written by experts from the academic and corporate sector, with diverse backgrounds in business, social science, and philosophy

Addresses a range of relevant issues, including genetic screening, the use of individual's genetic information, the rise of genetically modified foods, patenting, pharmaceutical mergers and monopolization, and the implications of genetic testing on non-human mammals
Preface.
Part I: Genetic Screening.
1. Is a Genetics Screening Program for Job Applicants Ethical? An Analysis of the Conditions Necessary for Required Genetic Screenings in the Hiring Process (Thomas Harter).
2. The Business of Genetic Screening (Duane Windsor).
3. Genetic Commerce: The Challenges for Human Resource Management (Karen S. Markel and Lizabeth A. Barclay).
4. Geneticize Me! The Case for Direct-to-Consumer Genetic Testing (Ronald Munson).
5. Proscription, Prescription, or Market Process? Comments on Genetic Screening (Eugene Heath).
Part II: Genetically Modified Foods.
6. Transgenic Organisms, the European Union, and the World Trade Organization(Dennis Cooley).
7. Commercialization of the Agrarian Ideal and Arguments against the New "Green Revolution: Feeding the World with "Frankenfoods"? (Johann A. Klaasen).
8. Corporate Decisions about GM Food Labeling (Chris MacDonald and Melissa Whellams).
9. Moral Imagination, Stakeholder Engagement, and Genetically Modified Organisms (Denis Arnold).
Part III: Corporate Governance and Genetic Commerce.
10. Who Owns My Ideas About Your Body? (Asher Meir).
11. Pharmaceutical Mergers and Genetic Technology: A Problematic Combination (Michael Potts).
12. Stakeholder Care Theory: The Case of Genetic Engineering (Jamie R. Hendry).
13. Unresolved Issues and Further Questions: Meir, Potts and Hendry (Laura Hartman)
"These essays demonstrate the critical importance of applied ethics as we all grapple with the biotechnology revolution. These scholars use ethics to illustrate the conflicts that emerge from commercializing genetic technologies and to indicate how moral reasoning could help society make better decisions about how to deploy them. A much needed contribution to understanding the expanding role of genetic technologies in our world."
Keith Douglass Warner, Santa Clara University<!--end-->


Explores the moral and ethical concerns derived from an increasing knowledge of genetics and the variety of its commercial applications

A major contribution to the emerging understanding of the role that ethics will play in genetic commerce

Written by experts from the academic and corporate sector, with diverse backgrounds in business, social science, and philosophy

Addresses a range of relevant issues, including genetic screening, the use of individual's genetic information, the rise of genetically modified foods, patenting, pharmaceutical mergers and monopolization, and the implications of genetic testing on non-human mammals