The Ethics of Sex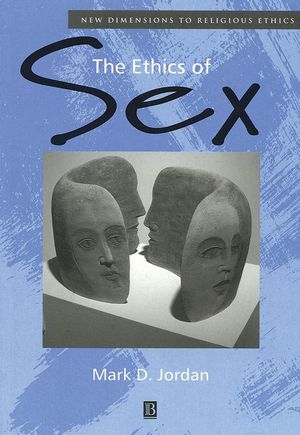 The Ethics of Sex
ISBN: 978-0-631-21818-0
Nov 2001, Wiley-Blackwell
208 pages
Description
Mark Jordan has written a provocative and stimulating introduction to the issues surrounding sexual ethics and sexuality and theology, filling a much-needed void in this field. Jordan summarizes key topics and themes in the teaching and discussion of religious ethics as well as pushing forward the debate in interesting and original directions.
Acknowledgements.
Prologue: Candid Advice to the Reader.
1 The Vices of Christian Ethics.
2 Scriptural Authorities.
3 A New Life Beyond Sex.
4 Crimes against Nature.
5 Marriage Acts.
6 "Attack" upon Christendom.
7 Redeeming pleasures.
Epilogue: Sex and Schism.
Works Cited.
Subject Index.
Index of Biblical References.
"This genealogical approach to Christian sexual ethics is as refreshing as it is illuminating. If this book is taken seriously, and it should be, it could transform the current and totally hackneyed debates."
Graham Ward, University of Manchester
"This book provides an informative foundation for a serious study of religious sexual teachings and a helpful survey of current debates in religious circles regarding sexual ethics." Choice

"Occasionally a book appears that stimulates such thoughtful controversy that one can welcome its arrival with a certain delight. Such a book is The Ethics of Sex by Mark Jordan." International Academy for Marital Spirituality Review

"The Ethics of Sex is perhaps the best undergraduate sexual ethics book available today." Journal of the American Academy of Religion

"(A) thought-provoking challenge to all ethicists (theological or secular) who aspire to offer an account of the 'ethics of sex'" Women's Philosophy Review


Summarises key topics and themes, pushing forward the debate in interesting and original directions


Creative in approach, yet easily accessible to the general reader


Offers knowledgeable commentary in a field of burgeoning interest