The European Union: The Annual Review 1998 / 1999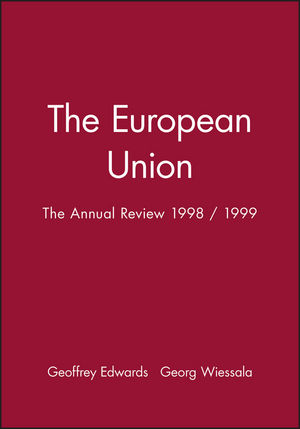 The European Union: The Annual Review 1998 / 1999
ISBN: 978-0-631-21598-1
Jan 2000, Wiley-Blackwell
260 pages
Description
The Annual Review, produced in association with the Journal of Common Market Studies, covers the key developments in the European Union and its Member States in 1998.
1. Editorial: Plus ça change...?: Geoffrey Edwards and Georg Wiessala (University of Cambridge and University of Central Lancashire, Preston).
2. Keynote article: Agenda 2000 - Packaging the Deal: David Galloway (Council of the European Union).
3. Governance and Institutions: A Transitional Year: Desmond Dinan (The Netherlands Institute of International Relations).
4. The British Presidency of 1998: Peter Anderson (University of Central Lancashire, Preston).
5. Small and New, but Nonetheless Competent: Austria and the EU Presidency: Kurt Richard Luther (Keele University).
6. Internal Policy Developments: John Redmond (University of Birmingham).
7. External Policy Developments: David Allen and Michael Smith (Loughborough University).
8. EU Enlargement: Developments in 1998: Chris Preston (British Know-How Fund for Poland).
9. Legal Developments: Nigel Foster (Cardiff University).
10. Development in the Economies of the European Union: Nigel Grimwade (South Bank University, London).
11. Justice and Home Affairs: Jöerg Monar (University of Leicester).
12. Developments in the Member States: Brigid Laffan (University College Dublin).
13: A Guide to the Documentation of the European Union: Ian Thomson (Cardiff University) and Janet Mather (The Manchester Metropolitan University).
14. Chronology of Key Events 1998: Georg Wiessala (University of Central Lancashire, Preston).
15. Books on European Integration: Brian Ardy and Jackie Gower (Thames Valley University).
The most up to date and comprehensive guide to events in the European Union
Includes a new 'Enlargement Update' as well as first-hand information about the state of the 'Pre-Accession Strategy' in regard to Eastern Europe
Includes a new annual overview on the two Presidencies falling into the year under review.