The Evergreen Portfolio: Timeless Strategies to Survive and Prosper from Investing Pros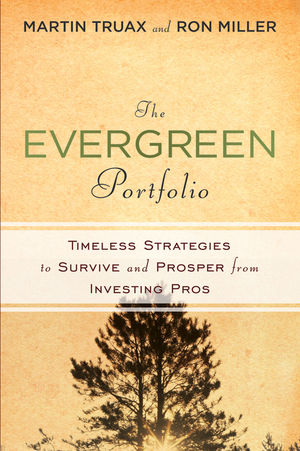 The Evergreen Portfolio: Timeless Strategies to Survive and Prosper from Investing Pros
ISBN: 978-0-470-89028-8 August 2010 304 Pages
Description
A practical system for growing and protecting wealth in today's volatile markets
Martin Truax and Ron Miller are financial professionals, who unlike others in this field, have made money in today's volatile market. While stock markets have been down fifty percent, they've managed to be up seventy percent. This book clearly explains the highly successful portfolio management system used by the authors to protect their clients' wealth as well as garner substantial gains-by participating in profitable market opportunities when they occur.
Divided into several informative and engaging sections, The Evergreen Portfolio reveals how you can use hedges to protect the long portion of your portfolio when the market starts to go down. It covers the tactical and technical methodologies needed to protect and grow your assets at a time when many investors are getting wiped out.
Discusses the keys to succeeding in today's market, including the best ways to invest in gold, diversify with foreign currency, and much more
Contains insights from top minds in the market such as Mark Skousen and Bob Precther
Offers an effective solution to the investment and retirement problems we all now face
Written with the serious investor in mind, The Evergreen Portfolio reveals one of the best ways to protect and grow your money in a turbulent financial environment.
Preface.
Acknowledgments.
Chapter 1: The Evergreen Portfolio - The Big Picture (Martin Truax).
Chapter 2: How Did We Get Into this Mess? And What is the Best Way Out? (Gary Alexander).
Chapter 3: Know the Signs of the Times (Mark Skousen).
Chapter 3: How Fed Policy Fuels Market Cycles (Gary Alexander).
Chapter 5: Investing & Hedging Strategies For a Topsy-Turvy Financial World (H. Ronald Miller, CFP).
Chapter 6: Conquer the Crash, Condensed (Robert Prechter).
Chapter 7: The Gone Fishin' Portfolio (Alexander Green).
Chapter 8: How You Can Profit From Chaostan (Richard Maybury).
Chapter 9: the New Global Investing Strategy (Adrian Day).
Chapter 10: High Yield Investing in the Shadow of the Big W (Roger S. Conrad).
Chapter 11: The Case for Growth (Elliott H. Gue).
Chapter 12: Gold Facts (Duane Poliquin).
Chapter 13: The Rare Coin Market - Understanding How It Works (Van Simmons and David Hall).
Chapter 14: Other Currencies vs. the Dollar (Frank Trotter).
Chapter 15: 2010 Estate Tax Law – Here to Stay or Going Away? (Gary Kashdan).
Conclusion.
About the Author.
List of Contributors.
Index.