The Experience of Close Friendship in Adolescence: New Directions for Child & Adolescent Development, Number 107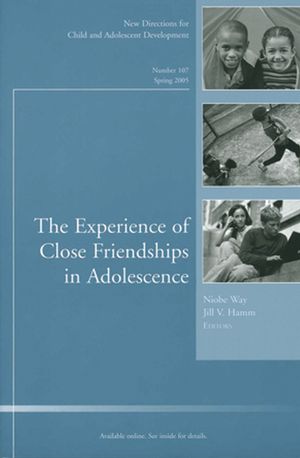 The Experience of Close Friendship in Adolescence: New Directions for Child & Adolescent Development, Number 107
ISBN: 978-0-787-98057-3 April 2005 Jossey-Bass 104 Pages
Description
In this issue, we present findings from four studies that employed qualitative methodology to gain insight into the how and the why of close friendships. How do adolescents experience trust and intimacy in their friendships? Why are these relational experiences critical for emotional adjustment? And how does the social and cultural context shape the ways in which adolescents experience their close friendships? The studies reveal the ways in which adolescents from diverse cultural backgrounds speak about their close friendships and the individual and contextual factors that shape and are shaped by their experiences of close friendships.

Close friendships among adolescents have been the topic of serious scholarly investigation since Harry Stack Sullivan began to theorize on the benefits of chumships over five decades ago. An increasingly large body of empirical research on the experiences and developmental consequences of close friendships has found that close friendships are critical to psychological, social, and academic adjustment. The study of close friendship, however, has been limited by its almost exclusive reliance over the past few decades on quantitative methods that are able to investigate the who (for example, the demographics of children's friends) and what (for example, are the effects of friendship on adjustment) of friendships but not the dynamic processes underlying the who and the what.

This is the 107th volume of the Jossey-Bass quarterly report series New Directions for Child and Adolescent Development.