The Exploratorium Science Snackbook: Cook Up Over 100 Hands-On Science Exhibits from Everyday Materials , Revised Edition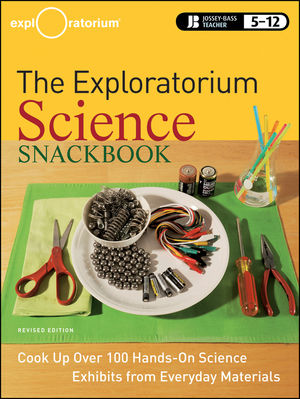 The Exploratorium Science Snackbook: Cook Up Over 100 Hands-On Science Exhibits from Everyday Materials , Revised Edition
ISBN: 978-0-470-54163-0 October 2009 Jossey-Bass 336 Pages
Description
Kids and teachers can build their own science projects based on exhibits from San Francisco's premiere science museum
This revised and updated edition offers instructions for building junior versions, or "snacks," of the famed Exploratorium's exhibits. The snacks, designed by science teachers, can be used as demonstrations, labs, or as student science projects and all 100 projects are easy to build from common materials. The Exploratorium, a renowned hands-on science museum founded by physicist and educator Frank Oppenheimer, is noted for its interactive exhibits that richly illustrate scientific concepts and stimulate learning.
Offers a step-by-step guide for building dynamic science projects and exhibits
Includes tips for creating projects made from easy-to-assembly items
Thoroughly revised and updated, including new "snacks," images, and references
Introduction.
Part One: The Cheshire Cat and Other Eye-Popping Explorations of How We See the World.
Part Two: The Cool Hot Rod and Other Electrifying Explorations of Energy and Matter.
Part Three: The Magic Wand and Other Bright Explorations of Light and Color.
Part Four: The Spinning Blackboard and Other Dynamic Explorations of Force and Motion.
Part Five: The Wire-Hanger Concerto and Other Ear-Splitting Explorations of How We Hear the World.