The Fainting Phenomenon: Understanding Why People Faint and What to do about It, 2nd Edition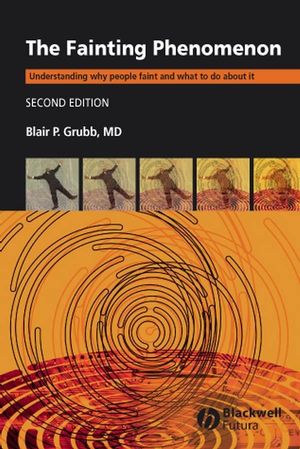 The Fainting Phenomenon: Understanding Why People Faint and What to do about It, 2nd Edition
ISBN: 978-1-405-18130-3 April 2008 Wiley-Blackwell 144 Pages
Description
Fainting, the sudden and often unpredictable loss of consciousness, can be a frightening experience. While often benign, fainting can sometimes be the sign of serious illness. Recurrent fainting can significantly disrupt a person's life, and make them prone to injury and, on occasion, death.

The Fainting Phenomenon, Second Edition is a valuable information resource for anyone whose life is affected by fainting.


Written for the layperson, this book will help you:



Understand the different reasons why people faint and their significance

Seek proper medical attention and treatment

Deal with related conditions such as Postural Tachycardia Syndrome and Orthostatic Hypertension
This is an indispensable and reassuring guide for parents, families and care givers.
1
Introduction.
.
2 The Fainting Phenomenon..
3 The Normal Nervous System..
4 The Normal Cardiovascular System..
5 Orthostatic Intolerance and Orthostatic (postural) Hypotension..
6 Neurocardiogenic Syncope..
7 Postural Tachycardia Syndrome and Chronic Fatigue Syndrome..
8 Other Possible Causes of Fainting..
9 Fainting in Children and Adolescents and in Older People..
10 Diagnosing the Underlying Causes of Fainting..
11 Treating Fainting..
12 Wrapping Up.
Glossary of useful terms.
Index.
"This book would be a very useful introductory text for medical students and nurses to read … .A useful size and covers theory to an appropriate depth." (
Cardiology News
, October - November 2007)
Review of edition 1:
This book is packed with information in 'layman's terms' – @we ordinary (non-medical) people' can then start to understand different types of faints that are being experienced or witnessed. The book can get very technical in parts, but not overly, regarding the heart, brain and systems. The Fainting Phenomenon book by Blair Grub should be in every surgery in the UK, it is a must that every Dr should have to hand. This is also a very good book for anyone who faints, be they patient, parents or carers, it will set them off on the road to ask the right questions with medical people to obtain a diagnosis for faints to put people (old or young) who suffer from this phenomenon at ease.
It is a must read and should be a best seller in every UK surgery and hospital!
An information goldmine for anyone whose life is affected by the threat and reality of fainting


A straightforward patient-focused guide to the phenomenon of fainting, its diagnosis and treatment

Covers parallel problems such as orthostatic intolerance, hypotension and chronic fatigue

A book that needs to be present in every GP surgery