The Fairfax Experience: What the Management Texts Didn't Teach Me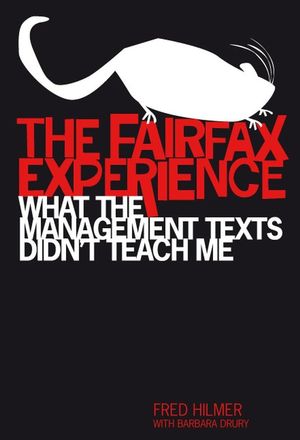 The Fairfax Experience: What the Management Texts Didn't Teach Me
ISBN: 978-0-731-40562-6
Apr 2007, Wrightbooks
200 pages
Description
Fred Hilmer completed his tenure as CEO of Fairfax in late 2005. With his academic background, he was a surprise appointment to the position that he ended up holding for seven years.

By 2006 Fairfax's earnings had doubled, costs were down and revenues were up; more importantly, in a highly competitive climate, Hilmer had restored the health of the flagging newspaper and publishing empire and built a digital platform.

In The Fairfax Experience: What the Management Texts Didn't Teach Me Hilmer discusses his time at Fairfax - his mistakes and what he learned from them, the negatives of change management and how he made the tough decisions while coping with the fall out.

A fascinating look at what it takes for leaders to achieve sustained business success The Fairfax Experience shows how theory can fall short in an industry dominated by strong personalities, family empires, legislative reform and the media spotlight.
About the author.

Preface.

Introduction: On becoming a rat.

1 An off-the-wall appointment.

2 The success Holy Grail.

3 The Fairfax experience.

4 In the hot seat: the decision environment.

5 The positive bias.

6 Being positive about negatives.

7 Lessons for leaders and educators.

Postscript: Media reform.

Appendix A: Fairfax share prices compared with Rural Press and Seven Network share prices.

Appendix B: International newspaper companies — annualised total shareholder returns 1998–2005.

Appendix C: The Buffett tenets for success.

Appendix D: The classic textbook formula for success.

Appendix E: Fairfax's organisational structure — 1998.

Appendix F: Fairfax's organisational structure — 1999.

Appendix G: Fairfax's organisational structure — 2003–2004.

Appendix H: Fairfax's organisational structure — 2005.

Appendix I: Sample pages from my 2004 business diary.

Notes.

Index.