The Fast Forward MBA in Project Management, 5th Edition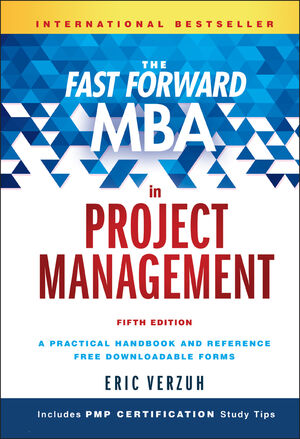 The Fast Forward MBA in Project Management, 5th Edition
ISBN: 978-1-119-08657-4 November 2015 528 Pages
Description
The all-inclusive guide to exceptional project management

The Fast Forward MBA in Project Management is the comprehensive guide to real-world project management methods, tools, and techniques. Practical, easy-to-use, and deeply thorough, this book gives you answers you need now. You'll find the cutting-edge ideas and hard-won wisdom of one of the field's leading experts, delivered in short, lively segments that address common management issues. Brief descriptions of important concepts, tips on real-world applications, and compact case studies illustrate the most sought-after skills and the pitfalls you should watch out for. This new fifth edition features new case studies, new information on engaging stakeholders, change management, new guidance on using Agile techniques, and new content that integrates current events and trends in the project management sphere.

Project management is a complex role, with seemingly conflicting demands that must be coordinated into a single, overarching, executable strategy — all within certain time, resource, and budget constraints. This book shows you how to get it all together and get it done, with expert guidance every step of the way.


Navigate complex management issues effectively
Master key concepts and real-world applications
Learn from case studies of today's leading experts
Keep your project on track, on time, and on budget
From finding the right sponsor to clarifying objectives to setting a realistic schedule and budget projection, all across different departments, executive levels, or technical domains, project management incorporates a wide range of competencies. The Fast Forward MBA in Project Management shows you what you need to know, the best way to do it, and what to watch out for along the way.
List of Figures and Tables
Acknowledgments
About the Author
Preface
Downloadable Forms
Part 1: Introduction
Chapter 1: Project Management: A Platform for Innovation
Introduction
Project Management Is Keeping Pace with Global Change
Project Management Is an Essential Leadership Skillset
Successful Projects Deliver Value
The Art and Science of Project Leadership
A Practical Checklist for Successful Projects: How This Book Will Help You
Beyond the Book: Tools for Application and Continuous Learning
Project Management Relies on Other Disciplines
End Point
Stellar Performer: OrthoSpot
Stellar Performer: PM4NGOs
Chapter 2: Foundation Principles of Project Management
Introduction
Projects Require Project Management
The Challenge of Managing Projects
The Evolution of a Discipline
The Definition of Success
Project Management Functions
Project Life Cycle
Organizing for Projects
End Point
Stellar Performer: Seattle Children's Hospital and Regional Medical Center
Chapter 3: Build GREAT Products: Lessons from Agile, Lean Start-Up, and Stage-Gate
Introduction
Defining Value: A New Lens for Judging Projects Informs the Development Process
Leverage a Consistent Product Development Process
Best Practices for Capturing Requirements Are Integrated into a Product Development Process
A Development Process Is Not Project Management
Innovation Projects Experiment to Discover Desirability and Viability
End Point
Stellar Performer: The Lean Startup Innovation Movement
Stellar Performer: The Agile Approach to Software Development
Stellar Performer: The Stage-Gate System for New-Product Development
Part 2: Defining the Project
Chapter 4: Project Initiation: Turning a Problem or Opportunity into a Project
Introduction
Project Initiation's Place in the Project Life Cycle
A Proposal Defines the Future Business Value
Managing Requirements Is Tightly Linked to Project Initiation
Common Principles for Project Initiation
Basic Project Proposal Content
Designing a Realistic Initiation Process
End Point
Stellar Performer: The Logical Framework Approach
Chapter 5: Know Your Key Stakeholders and Win Their Cooperation
Introduction
Stakeholder Focus Throughout the Life of the Project
Stakeholder Management Is Risk Management for People
Stakeholder Roles: Project Manager
Stakeholder Roles: Project Team
Stakeholder Roles: Management
Stakeholder Roles: The Customer
Affected Stakeholders Can Make Crucial Contributions
Engage Affected Stakeholders
Lead the Stakeholders
End Point
Fast Foundation in Project Management
Chapter 6: Write the Rules: Key Documents to Manage Expectations and Define Success
Introduction
Project Rules Are the Foundation
Publish a Project Charter
Write a Statement of Work
Statement of Work: Minimum Content
Responsibility Matrix
The Project Proposal Launches the Project
End Point
Fast Foundation in Project Management
Part 3: The Planning Process
Chapter 7: Risk Management: Minimize the Threats to Your Project
Introduction
The Risk Management Advantage
All Project Management Is Risk Management
The Risk Management Framework
Step One: Identify the Risks
Step Two: Analyze and Prioritize the Risks
Step Three: Develop Response Plans
Step Four: Establish Contingency and Reserve
Step Five: Continuous Risk Management
Unexpected Leadership
End Point
Fast Foundation in Project Management
Chapter 8: Work Breakdown Structure: Break Your Project into Manageable Units of Work
Introduction
Defining the Work Breakdown Structure
Building a Work Breakdown Structure
Criteria for a Successful Work Breakdown Structure
Work Package Size
Planning for Quality
Breaking Down Large Programs
Contractors or Vendors Can Provide a WBS
End Point
Chapter 9: Realistic Scheduling
Introduction
Planning Overview
Planning Step Two: Identify Task Relationships
Planning Step Three: Estimate Work Packages
Planning Step Four: Calculate an Initial Schedule
Planning Step Five: Assign and Level Resources
Small Projects Need Smaller Plans
End Point
Fast Foundation in Project Management
Chapter 10: Managing Agile Development with Scrum
Introduction
Scrum Is a Framework
Managing the Product Backlog
Make the Plan Visible: Task Boards and Burndown Charts
Key Factors for Scrum to Be Effective
End Point
Chapter 11: The Art and Science of Accurate Estimating
Introduction
Estimating Fundamentals
Estimating Techniques
Building the Detailed Budget Estimate
Generating the Cash Flow Schedule
End Point
Fast Foundation in Project Management
Stellar Performer: Tynet, Inc.
Stellar Performer: Adobe Systems
Chapter 12: Balancing the Trade-Off among Cost, Schedule, and Quality
Introduction
Three Levels of Balancing a Project
Balancing at the Project Level
Balancing at the Business Case Level
Balancing at the Enterprise Level
End Point
Stellar Performer: Safeco Field
Stellar Performer: Boeing 767-400ER Program
Part 4: Controlling the Project
Chapter 13: Building a High-Performance Project Team
Introduction
A Framework for Building High-Performance Teams
Leadership Responsibilities
Building a Positive Team Environment
Ground Rules
Team Identity
Team Listening Skills
Meeting Management
Summary of Building a Positive Team Environment
Collaborative Problem Solving
Problem Analysis
Decision Modes
Conflict Management
Continuous Learning
Summary of Collaborative Problem Solving
Job Satisfaction
End Point
Stellar Performer: Habitat for Humanity
Chapter 14: Clear Communication Among Project Stakeholders
Introduction
Embrace Your Role as a Leader
Creating a Communication Plan
Change Management: Promote Behavior Change in Affected Stakeholders
Communicating Within the Project Team
Closeout Reporting
End Point
Chapter 15: Control Scope to Deliver Value
Introduction
The Change Control Process
Configuration Management
Change Control Is Essential for Managing Expectations
End Point
Fast Foundation in Project Management
Chapter 16: Measuring Progress
Introduction
Measuring Schedule Performance
Measuring Cost Performance
Earned Value Reporting
Cost and Schedule Baselines
End Point
Chapter 17: Solving Common Project Problems
Introduction
Responsibility Beyond Your Authority
Disaster Recovery
Reducing the Time to Market
When the Customer Delays the Project
The Impossible Dream
Fighting Fires
Managing Volunteers
Achieving the Five Project Success Factors
End Point
Part 5: Advancing Your Practice of Project Management
Chapter 18: Enterprise Project Management: Coordinate All Projects and Project Resources in Your Organization
Introduction
Defining Enterprise Project Management
Three Tiers of Management Within EPM
The Four Components of EPM
Establish Consistent EPM Processes
Technology Enables EPM Processes
The People Who Deliver Projects
Support Project Management: The Project Office
End Point
Bill & Melinda Gates Foundation Enterprise Project Management Office
Chapter 19: Requirements Engineering: The Key to Building the Right Product
James Rivera and Eric Verzuh
Introduction
Requirements Engineering and Project Management Are Intimately Connected
Requirement Types Illustrate the Evolving Product Vision
Requirements Engineering Scope and Processes
Requirements Development Activities
Requirements Management Activities
Requirements Documentation Techniques
Requirements Engineering Demands Discipline
End Point
Chapter 20: Project Portfolio Management: Align Project Resources with Business Strategy
Ralph Kliem and Eric Verzuh
Introduction
The Scope and Goals of the Portfolio
Stakeholders: Roles in Project Portfolio Management
PPM Information Supports Decisions
Project Selection and Prioritization
Ongoing Portfolio Management
Monitor the Results of Projects and the Portfolio
Culture Change
End Point
Chapter 21: PMP Exam Preparation
Tony Johnson
Introduction
Requirements to Earn the PMP
Top 10 Study Tips for the PMP Exam
End Point
Chapter 22: Microsoft Project: Guidelines for Effective Use
Introduction
Project Management Software Supports the Discipline
Looking Under the Hood: The Design of Project
Set Up the Project First
Follow the Planning Model in This Book
Task Types: Fix the Duration, Work, or Resource Level
Assigning Resources to a Project
Resource Leveling Your Schedule
Maintaining the Plan Throughout the Project
Communicating with Your Team and Management
Project Server and Project Web App
End Point
Appendix: The Detailed Planning Model
Notes
Index