The Fattening of America: How The Economy Makes Us Fat, If It Matters, and What To Do About It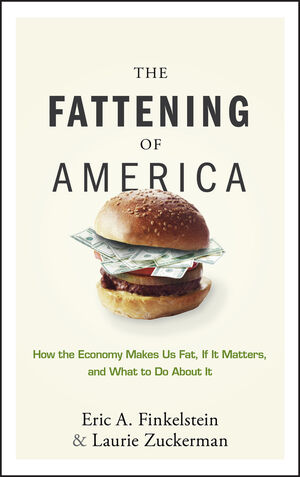 The Fattening of America: How The Economy Makes Us Fat, If It Matters, and What To Do About It
ISBN: 978-1-118-04503-9 December 2010 274 Pages
Description
In The Fattening of America, renowned health economist Eric Finkelstein, along with business writer Laurie Zuckerman, reveal how the U.S. economy has become the driving force behind our expanding waistlines. Blending theory, research, and engaging personal anecdotes the authors discuss how declining food costs—especially for high-calorie, low-nutrient foods—and an increasing usage of technology, which make Americans more sedentary, has essentially led us to eat more calories than we burn off.
Introduction:
Answering the Age-Old Question: Why Is Uncle Al So Fat?
Chapter 1 Craze or Crisis?
So Why Now?
My Soccer Team Eats Oranges.
So How about Adults? Are We Gaining, Too?
A Growing Waistline Can Be Bad for Your Health.
But Are We the Only Ones Gaining Weight?
The Longer You Stay, the Bigger You Get.
Chapter 2 I'll Take a Deep-Fried Coca-Cola.
First Things First.
Cheap Food Gets Cheaper.
The Rise of French-Fried Potatoes.
Please Pass the High-Fructose Corn Syrup.
A Full Pound of Sausage, Bacon, and Ham: Have a Meaty Morning.
Too Much of a Good Thing.
Kids Are Also Drinking the Kool-Aid.
When Is Enough Enough?
Chapter 3 Why We're Moving Less (Hint: It's Not Just the La-Z-Boy).
But I Don't Have Time!
Not Quite the Jetsons, But . . . .
Just Be a Marathon Runner.
We're Not Farmers Anymore.
Sprawling Out.
Our Kids Are Also Slowing Down.
Wrapping It Up.
Chapter 4 So Where Else Can We Lay the Blame?
Blame Mom and Dad.
Then Just Blame Mom (You Know You Will Anyway).
Blame the Meds.
Blame the Cigs (One More Theory Goes Up in Smoke).
Blame the All-Nighter.
Blame the Air Conditioner (Not Cool).
Blame Pollution (It's a Dirty Business).
Blame That Nasty "Fat Bug".
It's the Economy, Stupid.
Chapter 5 Beware: Moral Hazard.
Just Bill My Health Insurance.
Is Obesity as Bad as It Used to Be?
Just Take a Pill or Get a Procedure.
Chapter 6 So We're Fat—Who Cares?
Is Uncle Al Overweight?
C'mon Now, We're Only Utility Maximizing.
Now, Let's Tear This Argument Apart (and Put It Back Together).
So Should Dad (and the Government) Care that Uncle Al Is Obese?
Just Follow the Money.
Chapter 7 The Role of Government.
Market Failures.
Externalities.
Market Power.
Public Goods.
Obesity and National Defense.
Imperfect (Asymmetric) Information.
Is There a Role for Government?
Chapter 8 Weighing the Public Policy Issues (for Adults).
Equity.
Irrationality.
Compelling Public Need.
Revisiting Past Policy.
The Road Ahead.
Summing Up.
Chapter 9 Weighing the Public Policy Issues (for Kids).
First, a Step Back.
Child Abuse?
School-Based Regulations.
Your Mouth Will Really Groove.
In Closing.
Chapter 10 The Employer's Dilemma.
Why Don't Businesses Invest More in the Health of Their Workforce?
The Dirty Secret about Employee Wellness Programs.
So What's an Employer to Do?
Could These Programs Get Me in Legal Hot Water?
Chapter 11 The ObesEconomy.
Just How Big Is the Weight-Loss Industry?
Just Take a Pill.
Bigger and Better.
Invest in New Technology.
In the Name of Progress.
Chapter 12 How to Lose Weight Like an Economist.
Economic Weight-Loss Techniques.
A Few More Secrets to Success.
Conclusion.
Notes.
About the Authors.
Index.
"Fatty, fat, fat, fat," chants Bart Simpson. He has a point. Americans are getting fatter. But health economist Finkelstein (public health economics program, Research Triangle Inst.; coauthor, with Phaedra S. Corso and Ted R. Miller,
The Incidence and Economic Burden of Injuries in the United States
) and business writer Zuckerman (coauthor with Mary Cantando,
Nine Lives: Stories of Women Business Owners Landing on Their Feet
) analyze the finances behind the fat. They trace some of the familiar causes of the bulging American waistline that Greg Critzer identified in
Fat Land: How Americans Became the Fattest People in the World
. They weigh in on the economics of obesity, which they trace back to predictable sources such as school lunch rooms, fast food, television, commuting, and working moms. Then they target some surprising causes, including health insurance. On the flip side, they detail the economic consequences of obesity. For instance, obese employees take more sick days than do normal-weight employees-and their paychecks are slimmer. The authors highlight fascinating new scientific research into the causes of obesity and offer tips on lightening your load over the long haul. This book serves up a healthy selection for public and academic library business collections.—Carol J. Elsen, Univ. of Wisconsin, Whitewater (
Library Journal
, January 2008)
Everyone knows Americans are growing fatter, but health economist Finkelstein crunches the economic figures behind the nation's obesity epidemic and the results aren't pretty. Along with health-care writer Zuckerman, researcher Finkelstein delves into how modern technology reduces the cost of producing higher-calorie processed goods, decreases our activity level and puts our health in danger. Finkelstein debunks myths about the long-range cost of food production and consumption and scrutinizes the impact of genetics and U.S. fiscal policy on the nation's waistline, frequently using economics metrics in his analysis. Generous with summaries of major points, Finkelstein simplifies current stats to explain how the country's thunderous weight gain is straining Medicare and Medicaid and hurting our military readiness. The only positive effect he sees from the obesity epidemic is the creation of the "ObesEconomy"—a market sustained by gyms, diet drugs and other products and services designed to curb weight gain. Horrified by studies that reveal that obese children have a quality of life similar to children with cancer, the investigatory economist even throws in some health tips on dropping pounds. Despite a frequent reliance on economic tools and indicators, this combination study/motivational guide makes for a pleasant educational read, comparable to a vegetable puree snuck into a dessert. (Jan.) (Publishers Weekly, December 3, 2007)
"Finkelstein's tone is chatty and accessible…obesity is ultimately bad economics." (Financial Times, Saturday 16th February 2008)
"The authors show there is a casual relationship between the growth of the waistline and the changing shape of the economy." (Securities & Investment Review, March 2008)