The Field Guide to Counseling Toward Solutions: The Solution Focused School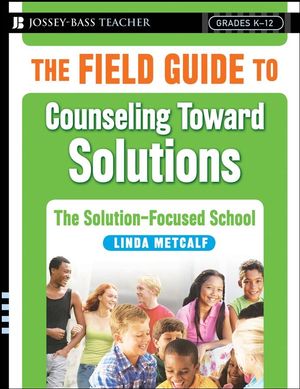 The Field Guide to Counseling Toward Solutions: The Solution Focused School
ISBN: 978-0-787-99807-3
Mar 2008, Jossey-Bass
144 pages
Product not available for purchase
Description
When it was first published in 1995, Linda Metcalf's book Counseling Toward Solutions became an instant bestseller. The book offered a new and positive program for changing individual behavior that helped K-12 students with their own problems and gave them self-esteem in the process. Now, The Field Guide to Counseling Toward Solutions offers school counselors, teachers, and administrators a complete program for changing the way that schools deal with a variety of issues. From an alternative school program that enlists the power of teacher mentors to the elementary program that involves the teacher, parent, and student in the counseling process, this book shows how to make change happen and how to make it last.
About This Book.
About the Author.
Acknowledgments.
Preface.
1 Setting the Stage for Success2 Training Staff to Become Solution Focused.
3 Working Together with Teams, Teachers, and Parents.
4 Stopping the Special Education Referrals Creatively.
5 Combining Your Resources: Solution-Focused Support Groups.
6 The Solution-Focused School.
Bibliography and References.
Index.
Proven track record: Counseling Toward Solutions is a classic text in the field, with more than 55,000 copies sold. This companion field guide enables school counselors and other education professionals to put a complete, solution-focused school program in place within an entire school or district.
Saves counselors time: School counselors have less and less time for one-on-one counseling, and are clamoring for new approaches that are fast and effective. This book helps them gain the collaboration they need from colleagues and parents, getting everyone on the same page and saving valuable time for all involved.
A unique approach to current school issues:  This is the only solution-focused school program available that involves everyone on campus and addresses today's issues such as decreasing special education referrals.
Increase morale: This field guide will help the school counselor and administrator train and construct more effective parent conferences, student conferences, team meetings, staff meetings, and planning meetings that work.  When school counselors introduce the solution-focused approach to teachers, those teachers feel more competent. When parents see the school is on the side of their child, they have more confidence in the school. As students see the school is ready to build a caring relationship, they behave.  With the solution-focused school program, everyone wins.