The Five Dysfunctions of a Team: A Leadership Fable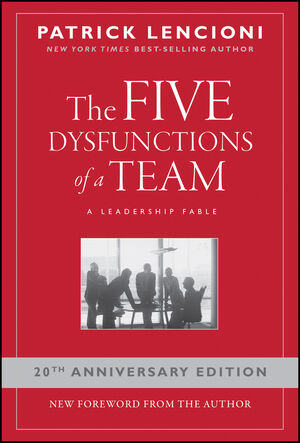 The Five Dysfunctions of a Team: A Leadership Fable
ISBN: 978-0-787-96075-9
Apr 2002, Jossey-Bass
240 pages
Description
In The Five Dysfunctions of a Team Patrick Lencioni once again offers a leadership fable that is as enthralling and instructive as his first two best-selling books, The Five Temptations of a CEO and The Four Obsessions of an Extraordinary Executive. This time, he turns his keen intellect and storytelling power to the fascinating, complex world of teams.

Kathryn Petersen, Decision Tech's CEO, faces the ultimate leadership crisis: Uniting a team in such disarray that it threatens to bring down the entire company. Will she succeed? Will she be fired? Will the company fail? Lencioni's utterly gripping tale serves as a timeless reminder that leadership requires as much courage as it does insight.

Throughout the story, Lencioni reveals the five dysfunctions which go to the very heart of why teams even the best ones-often struggle. He outlines a powerful model and actionable steps that can be used to overcome these common hurdles and build a cohesive, effective team. Just as with his other books, Lencioni has written a compelling fable with a powerful yet deceptively simple message for all those who strive to be exceptional team leaders.
Introduction vii
The Fable 1
Luck 3
Part One: Underachievement 5
Part Two: Lighting the Fire 27
Part Three: Heavy Lifting 115
Part Four: Traction 171
The Model 185
An Overview of the Model 187
Team Assessment 191
Understanding and Overcoming the Five Dysfunctions 195
A Note About Time: Kathryn's Methods 221
A Special Tribute to Teamwork 223
Acknowledgments 225
About the Author 229
In keeping with the parable style, Lencioni (
The Five Temptations of a CEO
) begins by telling the fable of woman who, as CEO of a struggling Silicon Valley firm, took control of a dysfunctional executive committee and helped its members succeed as a team. Story time over, Lencioni offers explicit instructions for overcoming the human behavioral tendencies that he says corrupt teams (absence of trust, fear of conflict, lack of commitment, avoidance of accountability and inattention to results). Succinct yet sympathetic, this guide will be a boon for those struggling with the inherent difficulties of leading a group.
Building a cohesive team is not complicated, declares Lencioni, president of his own management consulting firm and author of The Five Temptations of a CEO. Departing from the dry, theoretical writing of many management books, he presents his case in the context of a fictional organization, and in doing so succeeds at communicating his ideas. The story is about a female CEO who is hired to bring together a dysfunctional executive staff to work as a team in a company that just two years earlier had looked promising. The scenarios that follow are recognizable and can be applied anywhere teamwork is involved, whether it is a multinational company, a small department within a larger organization, or a sports team. The five dysfunctions discussed are absence of trust, fear of conflict, lack of commitment, avoidance of accountability, and inattention to results. At the end of the story, the main points are summarized, and clearly written suggestions and exercises are offered to help, bring about change. Concise and easy to follow, this book is recommended for academic and public libraries with management collections and for anyone who is a member of a team that needs improvement. —Bellinda Wise, Nassau Community Call. Lib. Garden City, NY (Library Journal, April 15, 2002)
"...there is a lot of good sense in this book...certainly offers some useful pointers..." (Supply Management, 28 March 2002)
"...is worth exploring..." (Progress, Summer 2002)
"...an entertaining quick read filled with information easy to digest..." (The star online, 12 August 2003)
Every manager and executive will recognize themselves somewhere in this book. Lencioni distills the problems that keep even the most talented teams from realizing their full potential. Even more important, he shows

in prose that is crisp, clear, and fun to read

how to solve them."

Geoffrey A. Moore, Chairman, The Chasm Group and Author of

Crossing the Chasm; Inside the Tornado and Living on the Fault Line

"This book is as thought-provoking, insightful, and rich with ideas as The Five Temptations of a CEO. I've used it with my team and it works!" Phillip Hildebrand, executive vice president and Chief Distribution Officer, New York Life Insurance Company
"Compelling and incisive, this will become the definitive guide on how to build and manage successful teams." Jean Kovacs, president and CEO, Commergent Techonologies
"As compelling, readable and practical as his other books. I'm sure this will be another business classic." Richard Carr, president and CEO, TEC International