The Five Strategies for Fundraising Success: A Mission-Based Guide to Achieving Your Goals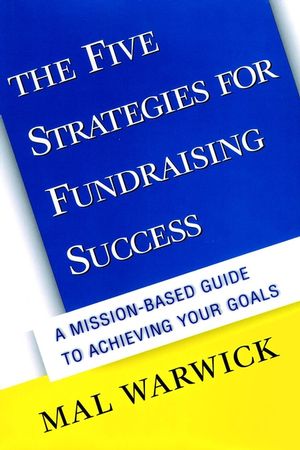 The Five Strategies for Fundraising Success: A Mission-Based Guide to Achieving Your Goals
ISBN: 978-0-787-94994-5 October 1999 Jossey-Bass 320 Pages
Description
In this practical and engaging guide, top fundraising consultantMal Warwick introduces an entirely new and revolutionary approachto fundraising strategy and planning. He shows nonprofitorganizations how to set fundraising goals based on mission and howto select, implement, and stay with the right strategies to meetthose goals. His five fundamental fundraising strategies areGrowth, Involvement, Visibility, Efficiency, and Stability (GIVES),all of which link directly to specific and appropriate fundraisinggoals. The decision as to which strategy to use springs from theorganization's mission, and all fundraising activities are focusedon fulfilling that mission.

Through real-world examples, Warwick shows readers how to choosea primary strategy that will drive both long-term fundraisingplanning and day-to-day fundraising activities. He then takes themstep by step through the process of integrating the strategy intocurrent operations, evaluating its progress, and sticking to thechosen strategy while facing the inevitable changes, obstacles, andsetbacks that nonprofits encounter every day. He also providesself-tests to help readers determine which strategy and tacticswill be most effective for their organizations. The FiveStrategies for Fundraising Success ensures that organizationsmake informed, productive decisions about their futures.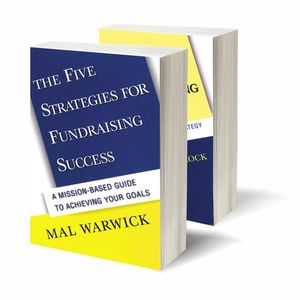 Buy Set of 2 Items
This item: The Five Strategies for Fundraising Success: A Mission-Based Guide to Achieving Your Goals
Original Price:$97.45
Purchased Together:$52.00
save $45.45
Cannot be combined with any other offers.
Original Price:$97.45
Purchased together:$73.09
save $24.36
Buy Both and Save 25%!
This item: The Five Strategies for Fundraising Success: A Mission-Based Guide to Achieving Your Goals
Building Your Endowment (Paperback $40.00)
Cannot be combined with any other offers.
Original Price:$91.95
Purchased together:$68.96
save $22.99
Cannot be combined with any other offers.
Original Price:$85.95
Purchased together:$64.46
save $21.49
Cannot be combined with any other offers.
Original Price:$95.45
Purchased together:$71.59
save $23.86
Table of contents
Part One: The Five Fundraising Strategies.

1. Growth.

2. Involvement.

3. Visibility.

4. Efficiency.

5. Stability.

6. How the Five Strategies Work in the Real World.

Part Two: Choosing the Right Fundraising Strategy for YourOrganization.

7. Getting a Fix on Your Organization's Vision.

8. Translating Vision into Goals.

9. Matching Goals to Fundraising Strategy.

10. Setting Achievable Objectives.

11. Exploring the Future with Scenario Planning.

Part Three: Making Your Fundraising Strategy Work: Tactics andTechniques.

12. How Much Should Fundraising Cost.

13. The Costs and Benefits of Fundraising Tactics.

14. Choosing the Right Fundraising Tools for YourOrganization.

15. Evaluating Your Success: The 10 Benchmarks of SuccessfulFundraising.

16. How Much Are Your Donors Worth.

17. Are You Investing in the Future?
Reviews
"Mal Warwick has done it again! Read this book and follow the fivestrategies--and you will be certain of success. Whatever stage youare in your career, this book will chart a precise road map forgreater production and towering results. The field's most prolificwriter makes it marvelously understandable in a book that's easyand fun to read." (Jerold Panas, consultant and author ofMega-Gifts and Born to Raise)

"Mal gets right into the subject with pointed clarity--a Warwicktrademark I value highly. He addresses his topics point by point,explains each, demonstrates how they work with realistic examples,and moves on quickly. You want to keep reading to his next point tosee where it leads. You don't have to agree but you will have tothink about how each point might be used in your ownorganization.... Mal moves up the bar again with new performanceevaluation and measurement tools by demonstrating how his fivestrategies spell fundraising success." (James M. Greenfield, authorof Fund-Raising: Evaluating and Managing the Fund DevelopmentProcess)

"Warwick's newest book mixes effective techniques he has testedover decades and his clear analysis of human motivations. Veteranfundraisers will get Warwick's invaluable worksheets to evaluatetheir work. New professionals will get a candid portrayal of thepitfalls to avoid. Everyone will get a great overview offundraising to make the best choices about raising money forpermanent, powerful organizations." (Joan M. Flanagan, consultantand author of Successful Fundraising)

"Warwick's extensive experience in nonprofit consulting is evidentin this practical guidebook on fundraising. Particularly helpfulare the case examples which illustrate his five fundraisingstrategies and the pitfalls inherent in adopting strategies thatare inconsistent with the organization's mission and long-termgoals. The book is an easy read for those interested in nonprofitdevelopment, whether or not they are experienced fundraisingprofessionals." (Paulette V. Maehara, CFRE, president and CEO,National Society of Fund Raising Executives)
Extra
Mal Warwick Associates Mal Warwick Associates help nonprofits and political organizations build long-term, mutually rewarding relationships with individual donors through integrated fundraising and marketing programs. Their focus areas include direct mail and telephone fundraising, legacy marketing, online communications, and major gift programs.