The Flexible Investing Playbook: Asset Allocation Strategies for Long-Term Success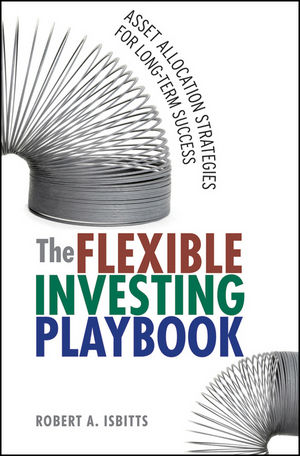 The Flexible Investing Playbook: Asset Allocation Strategies for Long-Term Success
ISBN: 978-0-470-63616-9
Aug 2010
212 pages
Product not available for purchase
Description
How to make sensible investment decisions during these turbulent times



2008 changed everything. Now, more than ever, investors need to be proactive in planning for their retirement. To do so, they must look beyond simply investing in stocks and bonds, while avoiding what may be overwhelming and even misleading investment advice. In The Flexible Investing Playbook: Asset Allocation for Long-Term Success, Robert Isbitts–mutual fund manager, investment strategist, newsletter writer, and author of Wall Street's Bull and How to Bear It–shares the strategies he created and uses with his clients.  This approach can potentially allow their portfolios to withstand the volatility of the stock market and subdue the emotional impact of investing, to increase the chances of reaching their investment goals. Along the way, the book:
•    Reviews the events of the 2008 financial market debacle, and identifies key lessons investors should learn from that experience
•    Discusses how traditional approaches to diversification are fraught with risks, and how they may endanger the pursuit of a secure retirement
•    Details why he believes investors cannot live on stocks and bonds alone, while also describing how to properly diversify, without sacrificing precious liquidity
The Flexible Investing Playbook, he presents a proactive approach to investing that's based on the strategies Isbitts created, designed and currently manages.
Acknowledgments.
Introduction: Replacing Your Old Investment Playbook.
Part I Setting the Stage to Be Reeducated.
Chapter 1 Tired...but Not Retired.
Chapter 2: 2008: What the Hell Happened?!
Chapter 3 What Have We Learned?
Part II Getting Old Ideas Out of Your Head.
Chapter 4 Identifying the Issues and the Enemy.
Chapter 5 Wall Street's Bull.
Part III Investing the Twenty-First Century Century.
Chapter 6 Keys to Successful Asset Allocation.
Chapter 7 Hybrid Investing.
Chapter 8 Concentrated Equity Investing.
Chapter 9: Global Cycle Investing.
Part IV You've Come This Far, Now Score! (Putting the Strategy to Work).
Chapter 10 Evaluating Your Performance—the Right Way.
Chapter 11 Putting It All Together.
About the Author.
Index.