The Force of Obedience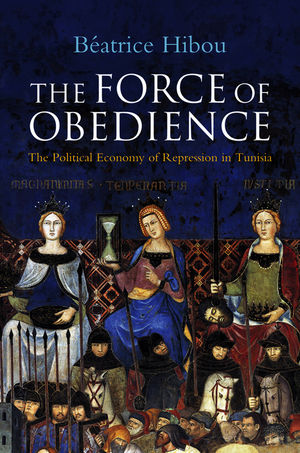 The Force of Obedience
ISBN: 978-0-745-65179-8 June 2011 Polity 380 Pages
Description
The events that took place in Tunisia in January 2011 were the spark igniting the uprisings that swept across North Africa and the Middle East, toppling dictators and leading to violent conflict and tense stand-offs. What was it about this small country in North Africa that enabled it to play this exceptional role?

This book is a deeply informed account of the exercise of power in Tunisia in the run-up to the revolt that forced its authoritarian ruler, Ben Ali, into exile. It analyses the practices of domination and repression that were pervasive features of everyday life in Tunisia, showing how the debt economy and the systems of social solidarity and welfare created forms of subjection and mutual dependence between rulers and ruled, enabling the reader to understand how a powerful protest movement could develop despite tight control by police and party. For those wishing to understand the extraordinary events unfolding across the Arab world, this rich, subtle and insightful book is the indispensable starting point.
Introduction
I. POWER BY CREDIT
1. Bad debts
2. Dependence through debt
II. CONSTRICTION AND ADHESION
3. A meticulous grid
4. The normalizing activity of the bureaucratic apparatus
III. NEGOTIATIONS AND CONSENSUS: THE FORCE OF 'INSIDIOUS LENIENCIES'
5. Between hidden conflictuality and the permanent search for compromise
6. Negotiated accommodation
7. The outline of the Tunisian security pact
IV. DISCIPLINE AND REFORM
8. Reformism: the 'correct training'
9. Reforms in perpetuity: the success of reformism
Conclusion
"A powerful reminder that, to paraphrase President Obama's recent speech, the future of the Arab world will depend on the interactions between street vendors and those in power."
LSE Politics Blog
"The Force of Obedience is the best book written on Tunisia in the last two decades. The great issues of social thought - legitimacy, political economy, the common good, the public and the private, authority and power, and how "repression" inspires compromises and acquiesence - are brilliantly articulated through a persuasive mix of documents and incisive ethnography. Hibou's book not only offers a key to understanding today's Tunisia; it also offers innovative ways of understanding political developments elsewhere."
Dale F. Eickelman, Lazarus Professor of Anthropology and Human Relations at Dartmouth College

"Hibou's highly original study shows what North Africans revolted against in 2011. Her analysis of the politics of fear and repression in Ben Ali's Tunisia is unrivalled, particularly for her focus on the regime's destabilizing interventions in everyday economic life. This book is destined to become a classic."
Keith Hart, Goldsmiths, University of London

"Anyone seeking to understand the revolutionary wave that arose in Tunisia and swept across the Arab world in 2011 can begin with this insightful study of the Ben Ali regime and its methods of control. Rejecting simplistic accounts of an omnipotent authoritarian ruler, Béatrice Hibou explains the decentralized, day-to-day mechanisms of repression through which the regime governed. Her careful account of the practices of domination offers not just a history of a defeated political order but a model for understanding the insidious forms of power against which struggles for political freedoms must continue to fight."
Timothy Mitchell, Columbia University