The Forgotten Queens of Islam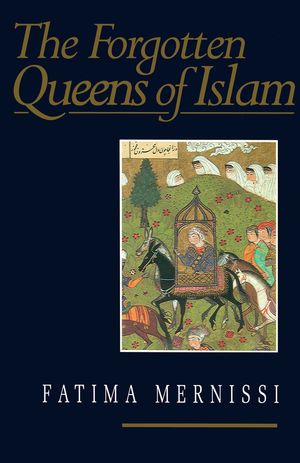 The Forgotten Queens of Islam
ISBN: 978-0-745-61419-9
Sep 1994, Polity
240 pages
Description
In this extraordinary and powerful book, now available in paperback, Fatima Mernissi, one of the most original and distinctive voices in the Islamic world, uncovers a hidden history of women leaders of Islamic states stretching back over fifteen centuries.
Introduction: Was Benazir Bhutto the First?.
Part I: Queens and Courtesans:.
1. How Does One Say Queen in Islam?.
2. The Caliph and the Queen.
3. The jawari or Revolution in the Harem.
4. Khayzuran: Courtesan or Head of State?.
Part II: Sovereignty in Islam:.
5. The Criteria of Sovereignty in Islam.
6. Fifteen Queens.
Part III: The Arab Queens:.
7. The Shi'ite Dynasty of Yemen.
8. The Little Queens of Sheba.
9. The Lady of Cairo.
Conclusion: The Medina Democracy.
Notes.
'A brilliant achievement of feminist historical archaeology! ... an outstanding work of feminist cultural history and politics.'
Susanne Kappeler
'... fascinating book.' Sunday Telegraph
'The Forgotten Queens of Islam is not merely a well-researched investigation of the past, but a manifesto for the Islamic world in the 1990s. A tersely eloquent discussion of the nature of power in Islam.' New Statesman & Society
'Professor Mernissi's erudition is impressive ... her analyses of the nature of political power, the confrontation between Islam and modern democracy, and the rise of fundamentalism are illuminating.' The Independent
'... a very readable broad sweep of history.' Times Literary Supplement
'The book is not only an exciting foray into a subject that begs for more research, but also an exhortation to Muslims to rediscover the democratic and egalitarian roots of their religion.' Far Eastern Economic Review
'The book is an original piece of work which, undoubtedly, constructs a challenging contribution to the official history of women in Islam. The readings generate inspiring knowledge to the debates concerning politics, gender and power.' Sociology
'It is essential reading for all who want to clarify and balance their understanding of Islamic societies through history - Muslims and non-Muslims both.' AJPH
* Fatima Mernissi is internationally famous; she is one of the best known female intellectuals in the Arab world.
* This is the first sustained study of female heads of state in the Islamic world through the centuries.
* It is highly accessible and due to the topical and controversial nature of the theme, it will reach a wide general audience as well as academics and students.